BigFurHat

Reactionary satirists have begun their usual demonization of progressives leaders.
Leave it to rightwingers to describe Barack Obama as Hitler, Alfred E. Newman, or Barakula! Progressive satirists would've never done this to Republican candidates! We would've never printed a picture of George Bush as Alfred E. Newman on a
magazine cover
and ranked it in top 40 best magazine covers! Progressives would've never put a
mustache on Bush's face and call him Bushitler
.

Red Bubba

Ya, right, like a foreign-born megalomaniac nobody who happens to be a good talker is gonna be able to push the victim button, get a pass on hateful rhetoric and facist associations, and wrest power from an aging military hero.

Why wait? Let's take a chance on Hope and Change. What't the worst that could happen?


BigFurHat

foreign born????

I don't think so...


Commissar M

Now THAT is offensive! I'm pretty sure that profaning the image of the Beloved People's Messiah in such a manner is, or will be, a violation of the Unity Act of 2009 (aka The McCain-Clinton bill). Besides, everybody who really counts for anything knows that only people on the right can be equated with Hitler or W, for that matter.

What's next? Some reich-wingnut joker will create two identical monkey images, one with Bush's face, the other with Obama's, in order to see which one the commissars at Cafe Press deem offensive?

Oh wait....

Remember comrades, humor is in the eye of The Party!


Premier Betty

Only what we decree funny can be funny. Everything else is an insult!


Dr. Strangelove

O'Brien

Premier Betty
Only what we decree funny can be funny. Everything else is an insult!
As one of our esteemed Comrades puts it:
"We can of course use jokes and satire against hostile and reactionary views, but we will not tolerate jokes made against socialism."
- Gyoergy Marosán, Hungarian Party Central Committee Member, 1957
O'Brien
WAR IS PEACE
FREEDOM IS SLAVERY
IGNORANCE IS STRENGTH

Mikhail T. Kalashnikov

So that's why Liberals don't think Conservative humor is funny. I was always too afraid to ask.


Commissar_Elliott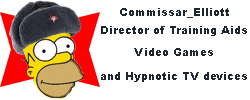 (Karakter off if need be.)

I'm suprised I haven't heard/seen this around in other places like on "Good Morning Amerika" "the Communist News Network" or "MoveOn.org".