Clara Illbustyourballs Zetkin
Komrades,

As a reminder, when you hear a BIG BLAST and see the MUSHROOM CLOUD rising ...............




it is time to stop making the TikTok and YouTube video and as some were taught as wee proles......

DUCK AND COVER because there is another AFTERBLAST coming.





Red Rooster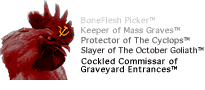 Genosse Dummkopf

Duck!... and over.
So now you know what to do when a Corona specimen explodes its poisonous bodily essence right over your beet-quota-preoccupied head.
And now homework, to fixate the lessons learned:
Mystery item No. 1