$.$. Halliburton

Joe Kulak wakes up in the morning thanks to an alarm clock radio he bought at the state store. The radio was invented by communist party hero so workers could enjoy music, education, and the news from the Party. Joe Kulak curses the radio as he hates to get out of bed with his usual hangover and do honest labor.

Joe Kulak goes outside to the communal outhouse and waits his turn in line to relieve himself. The Defense of the Revolution neighborhood collective built the outhouse so everyone would have a sanitary place to relieve themselves. Joe Kulak reviles the neighborhood Defense of the Revolution; they liberated everything he'd been hoarding. He would rather relieve himself any old place he feels the need like some kind of wild uncouth animal but he knows that if he does the police (who wouldn't be there but for the State and the Party), the keepers of law order and civilization which he abhors because they keep him and his ilk at bay, will arrest him.

etc, etc, etc.


Ivan the Stakhanovets

<wiping away a tear..> Its just like the Army too, and I miss it so.

I need a hug...


Comrade Putout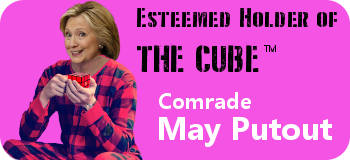 Tovarichi made me cry as well when he
<wiping away a tear..> Its just like the Army too, and I miss it so.

I need a hug...
Ohhhhhhhhhhhhh!

(Dude - you got a pretty big head! Plus don't pay any attention to old Hank Johnson in the background. He does look kinda jealous though! I wonder what he's thinking? I didn't want to ruin the tenderness of this image by including a thought bubble - it is still suitable for framing and placement on your night stand. And yes you are welcome comrade!)

Captain Craptek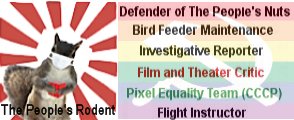 Craptek Takes A Break

Comrade Putout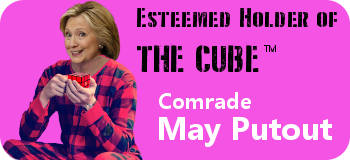 .
.
This is beyond the pale dear comrade!

Someone must be punished!!!

Comrade Putout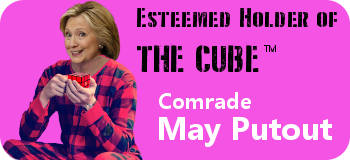 .
.
As far as I'm concerned, Obama has been a Leninsend!
---

**Voice-Over - May P.**

You know I wanted to lose weight but I couldn't... I just couldn't do it on my own!

Then I heard about Obamasystem. Once I lost my job and couldn't afford to feed myself... the pounds just melted off!

This is the first summer I went to the pool and didn't pee in it!

Obamasystem works... it really works!!