The Ghost of Red Rooster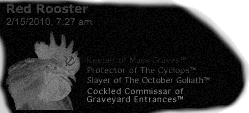 Dear Comrade,
I am sorry, I am dead now, but I write to you from my collective grave. I was killed in the last purge. However!!!
Thank you for your recent action and affirmation of movement to bring social justice to Amerikkka! We are certainly fortunate to be supported by the Oligarchs of Lenin. Trotsky certainly was waste of time…. and we are glad to hear that you Oligarchs from Amerikkka understand this! You know dear comrade, it is why the axe pick was so needed in Mexico after the exodus.
Comrade, I see that you have full control of your oligarchy now, even with your space program! Excellent!!! We will need it in the world of next Tuesday. I have agitated for so long with my fellow workers for this day. When all things are equal. When all things have been redistributed korrecktly!
Please forgive me, for I understand your status given by The Party, but I have a few questions about your redistribution plan and I am eager to know in what quantities all your wealth will be redistributed. I am sorry to be so frank, but I have many here in my own neighborhood with the same question? When will the redistribution happen and how much will it be!?!?
We are eager Comrade! And we thank you for your contemplations at redistribution!
Can you talk? I have no direct channel to you, or perhaps you have ignored my previous messages through your channels on direct email and as Amazon Prime customer #1… I understand. But I feel you may come here, to such a progressive website to understand the feelings of the masses. We are waiting for your word to us here. We are longing for guidance and reparations. So many are asking.
So when will give to all up Comrade? You know that if you are true Man of the People, it is Time to give it all up.
And WE are waiting.
Commissar Red Rooster
P.S. I am sorry for my poor English.
P.S.S. I have worked so long to be Commissar here and we know you will let us continue to rule this small faction of the world. Thank you, Dear Oligarch Bezos.

The Ghost of Red Rooster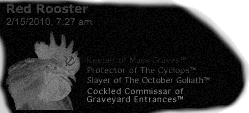 TO continiue:::: Dear Comrades, People of The Party, Truly Agitated Proles!You Neo-Keolaks have perhaps set a precedent. As Amazon PRIME Customer, heh, #1, it seems the Neo-Kulaks have chosen a benchmark, and I can no longer return packages through Whole Foods?!?!? Born of the radical PacWest west, now headquartered in Austin))))))) (That is sadness)I now have to return packages through the Neo-Kulaks of Kohls, more set in the south... we wonder.AMAZON!!! I am tired of your racist ways!!! I only wanted to go to WHOLE FOODS! Because as my #1 PROGRESSIVE CHICK SAYs... there is no eracism, only racism. It has been said that the more open minds are north and west, yet I am finding I can do more shopping in the south???Why is that comrades?Please explain holy ones????We are we waiting for the Dear Leaders of Agitation ones to figure it out?.Commissar Rooster From The Grave.