Dr. Strangelove
From "Rolling On the Floor, Laughing My Ass Off" (ROFLMAO) we get:
a laughing floor of rolling asses
Ex.: I went to a comedy club last night, and the act by Commissarka Garofalo with her
pantload of revolution
was so
inanely banal
incredibly funny that it resulted in
a laughing floor of rolling asses
.

Marshal Pupovich

A congress of idiots.


Dr. Strangelove
Pup, I think you're onto something with using "congress" to represent a large body of people:

a congress of idiots
a congress of thieves
a congress of liars
a congress of traitors
a congress of sellouts
a congress of cowards
a congress of lechers
a congress of whores
a congress of swindlers
a congress of embezzlers
a congress of snakes
a congress of morticians
a congress of used car salesmen...


Marshal Pupovich

LOL Congress is indeed all of the above!


Father Prog Theocritus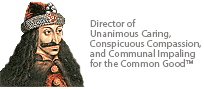 a congress of preening, self-serving, self-righteous, wallet-lifting, short-sighted, cynical footpads


Marshal Pupovich

Then again, there is also a "douche bag of congress."


Dr. Strangelove

Red Square

Progressive cartoonists must be reading old People's Cube materials for inspiration.

$.$. Halliburton

A Pravda of editorial cartoonists.