Comrade Otis

Here's something you've all been waiting for. Howard Zinn's new book! A People's History of American Empire. This book will be used in schools throughout the Empire. It just came out on April 1st. The promo video sums it up in a, um, nuts hell:




Nancy

I like how a reference to Hurricane Katrina™ was dropped in Howard's presentation on American Imperialism. It is always – always! – tasteful and appropriate to make reference to Hurricane Katrina™ no matter what the topic of discussion may happen to be because it is our duty to remind everyone that George Bush is responsible for everything that goes wrong. Federalism? No, never heard of it, Comrade! Never heard of it!


Sea-Bass

This is so last Tuesday!! We have been beat to near death by all these claims...come up with something new...Howard!!!


Comrade Hasan

Yah! I love selective recollection!


Red Square

An Inconvenient Truth Part II.
And don't forget, comrades - Howard Zinn was featured in the picture gallery of Americans Who Tell The Truth.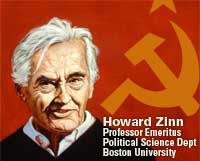 Commissarka Pinkie

Did you know Comrade Shetterly has 5 new portraits up? And a new blog entry in his Artist's Journal that has me dying to know what kind of car he drives and how much his home is worth (and not because I consider him a "prospect", either).


Premier Betty

I'm sure he has 15 Priuses. Because the more you have of a politically correct thing, the better a person you are.