Speaks Truth to Chimps


Red Square


Speaks Truth to Chimps

Well at least I was first, which also sometimes puts one at a disadvantage. I insist on "Equality of Outcome!"


Laika the Space Dog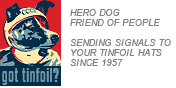 It's important to have all our friends sign the petition!
So far I got Osama to sign at # 22116
Barking Moonbat at # 22125
Karl Rove at # 22303
Anton LeVay at #22313
Charles Manson at #22320

Call or email your friends to sign, it's as important as not removing the tag from a pillow or mattress.


Chairman M. S. Punchenko

I am patiently waiting for the contest announcement, I spent all night supervising the best writing team of Wall-Mart sweat shop greeters campaign money can buy. Oh those little buggers make me so proud.


O'Brien

Comrades!!

I have so far rallied Lenin, Stalin, Castro, Marx, Gasey, Trotsky, and of course myself to sign this glorious petition!!!

O'Brien

WAR IS PEACE
FREEDOM IS SLAVERY
IGNORANCE IS STRENGTH


Premier Betty

I am forcibly rallying several hundred peasants to sign the petition with the help of the Nixon clones who have already signed.