Dr. Strangelove
The thought criminal and agitator known as
Nonperson Goldberg
has written another screed that is pure blasphemy against the O'ly Obamessiah and besmirches the reputation of the
First Canine
. I recommend that we dispatch SMO immediately to give Nonperson G a limo ride to the beach and a free pair of new "shoes."
A Slobbering Love Affair: The True (And Pathetic) Story of the Torrid Romance Between Barack Obama and the Mainstream Media
Dr. Strangelove
Direktor of Flashing Lights, Shiny Things, Bobbles, and Cinematography
Ministry of Agitprop
"Gentlemen, you can't fight in here! This is the War Room."

Commissar Obamissar V

Please let me have him. Even the most seemingly hopeless thought criminal can be brought to love Big Brother. Arbeit Macht Frei.

-OV


Dr. Strangelove
Comrade Vodkavich,

Report directly to SMO and await her instructions. You will learn a thing or two from her, and a warning: at all times in her presence, watch your back!

Dr. S


Commissar Obamissar V

WILCO. And thanks for the heads up, Comrade Strangelove. I was a bit concerned about her broom, but hearing it from you, I'll know to be EXTREMELY concerned about her broom.

*BREAK BREAK*

Comrade SMO, I humbly stand by for your knowledge and orders.

-OV


Dr. Strangelove
You should be more concerned about her
nail gun
.

Commissar_Elliott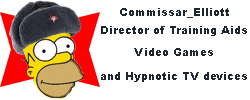 Here is an author we let slip between our hands. I must say, let us not make the same mistake again. I may be new to the Inner Party, but even I know who we should and shouldn't let go. Let us get him!


Commissar Obamissar V

Indeed, Esteemed Doctor. I shall beware the nail gun. Though I must admit a certain tingle in my leg resulting from her various missives. Pray tell, does she own a
pig farm?
-OV

Dr. Strangelove
I don't think so. She's a dolphin.