jackalopelipsky

This post has been reeducated fully for all comrades' edification by executive order.
T
Startling news is escaping the Texas (aka Texazistan) Rethuglican Party's Virtual State Convention regarding one specific platform plank. The plank originally stated the usual blather that all historic monuments were protected and revered, and that Texans could stand at ease knowing everything on the news regarding destruction of historic monuments in Texas is FAKE News.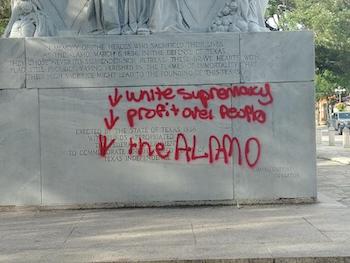 No! The Alamo Centograph is NOT! under siege. Again.
Texazistan's Land Commission, George P. Bush says the Centograph must be moved to keep it from falling apart.
Which sounds a whole lotta a buckaroo$ spent to pass something to find out what the new legislation actually says.
Those comrades who never joined up with Stephen F. Austin's option to migrate to Texas to flee RRRRACCCIST, IMPERLIALISIT, United States may need reeducation.
By, 1824, 300 migrants and their families negotiated mortgage payments for unimproved property on which they could dig wells, and build cabins, barns, and out houses through these Spanish Land Grants. These Spanish Land Grant mortgages were then rebundled by Wall Street Capitalist Pig Brokers and resold to the new Mexican Government's Fannie Mae Program.
Then, President of the Mexican Government, Antonio López de Santa Anna, decided that he could renegotiate Texans' mortgages. Besides, with all the improvements, it was very powerful to make sure the "right" people owned these renegotiated mortgages. The Texans, having worked hard to improve the property by digging wells, and building cabins, barns, and out-houses said "Come and Take It" and the war against Santa Anna and his Mexican Lives Matter army was on. Even though, many Mexicans living in Texas also belonged to the Don't Mess With Texan's Mortgages Army. So, as always, some lives matter more than others.
And that's why the Little Band from Texas, ZZ-Top played Deguello at the Alamo, March 6, 1836. No Quarter! Not even a peso, could be spared for the Don't Mess with Texan's Property Rights criminals holed-up in an outlawed Christian religious building, in San Antonio, Texazistan.
So, now that comrades are fully re-educated about these criminal property rights defenders portrayed on the Centograph standing in front of the Alamo, you understand why moving the Centrograph to keep it from falling apart means so much to current criminal property rights defenders.
Criminals, like Paul Gescheidle, are defending the property rights of the Centograph which typifies the kind of criminal activity that has become defense of property rights. The Centograph is again forced to defend its own property rights at the Alamo again. It seems the powers that be in Texazistan are pushing for another Texas Independence Day from oppression and tyranny.
So, comrades, when the virtual voice of
Paul Gescheidle
spoke to add to the Rethuglican Platform blather about defending All Monuments Matter, to once again defend The Alamo and property rights defenders.
Quote:
Specific protection shall be afforded the site, including all land and existing monuments, including the Cenotaph, which SHALL NOT be moved from its present site.

Geschidle then raised the line in the sand ante, by not only defending the honor of the Alamo's property rights and liberty martyrs currently losing property rights in San Antonio's, Texazistan, by making the motion that two NEW property right defending figures be added to the under siege Centograph.

jackalopelipsky

This post has been reeducated fully for all comrades' edification by executive order.

forelock tugging to all governing cubes,

Jackalopelipsky
Russian Asset
# BR 549
with love, xxx


The Ghost of Red Rooster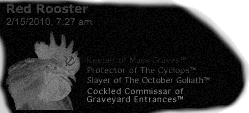 Dear Jackalope From Sante Fe, (for that is the only Jackalopes we ever seen on Peyote)...
Is it true they are painting or have painted some statue at The Alamo? I am trying to understand your transmission.
It is good to desecrate all these Evil Kapitalist statues. Lenin willing we desecrate them all and tear them down just as all the Neo-Kulak comrades in Russia did to our beloved Lenin!!!

jackalopelipsky

Ghost of ...
Yes! It is true that Protected Historic Monuments are being painted with Marxist Gospel scripture exegesis.
Plus!! Protected Historic Monuments - such as the Centograph - are being forced by the Son of JEB! to move so that they don't crumble and fall apart.
It's for The People's Good™.
Good thing for peyote, otherwise Ghost of... would have missed seeing a mythical horned rodent roaming the wide open grasslands of Texazistan, making 'pelipsky's mythical mind think the myth is already extinct - and no comrade with a spread sheet of countability told 'pelipsky.

The Ghost of Red Rooster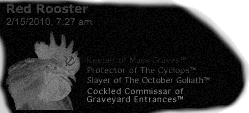 Context:
https://www.expressnews.com/news/politi ... 010412.php
We are sure JP also needs some P. Terry's!
Don't Tell Another Soul!!! Shhhhhh....

jackalopelipsky

Ghost of ...
said
https://www.expressnews.com/news/politi
... 010412.php
y'know, Ghost of...a comrade could get the crazy notion that historic re-movement is being enacted for The People's OWN Good, regardless. It's like these dialog boxes don't even work anymore. Dialog Script was written before even opening chat app for discussion.
Divisive contrary ideas not in unity with prewritten Dialog Script are nothing more than white noise to drown out the jackhammers at work to complete THE PLAN of Relocation. Property Right defenders have no reason to be so absolutist when new developers could do so much more with that prime downtown real estate than a bunch of dead heroic guys carved in limestone.