Kool-Aid_Man

A light at the end of the tunnel after the dastardly acts of the bourgeois filth in the housing/financing industry?
http://www.ecojoes.com/tiny-house-big-savings/
Quote:
There's a new craze that's sweeping the nation. Tiny houses. Many of them even smaller than this converted bus. Instead of living in a big, energy-consuming, resource-using McMansion, some people have chosen to live in small houses of about 100 square feet. It might sound crazy, but after looking at pictures and video of them, a tiny house doesn't sound too bad.
A place for all in the new world order!

Red Square

To save on energy, the light at the end of the tunnel will be turned off.


Krasnodar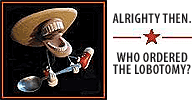 Dear Leader's new approach to HUD projects are another possibility for affordable housing..........
And here's a rather unique design solution....the converted domicile is buried so as to save on heating and cooling costs ! Entry into the living quarters is through the top hatch.

Colonel 7.62

Excellent. It is about time the proles understand what it is like to live in small, tiny dwellings. Their sacrifice for the Greater Good(TM) will ensure that AlGore can continue to heat his giant eco friendly home.


Comrade Whoopie

Cellular Housing without the bars.


General Confusion

Comrades,

The luxury and comfort of such snug dwellings cannot be overstated! Ventilation would appear to be a problem, but that is quickly overcome.

After you have moved in there should be no problem of covering the access area with dirt.


darski

All of which goes to prove that less is ... um less.


Colonel 7.62

Wait a minute. I live on my sailboat. 100 square feet? That's plenty roomy!


Proletariat Peabody

Interesting, but
all murderous tyrants
our glorious Progressive Founders have always known how to find 'homes' for
the innocent
those less fortunate.