Komrade Zarkof
Comrades,
Al Gore, the High Priest of Climatology, is still fighting to save the Planet from Climate Change Deniers and Reich Wing Nazis. He recently gave a speech in England, berating the critics of his stance on Climate Change.
Here's the link to his statements.
We must act quickly and stop the seas from rising before it's too late!! Do it for the Children™!!

Opiate of the People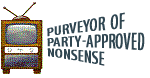 "Climate deniers and Nazis...."

Aren't those the same thing?


But seriously, solving Climate Change[sup]TM[/sup] IS really all the about the children, folks. Children tend to be shorter more height-challenged than adults and thus closer to the ground; as the seas rise, they will be the first to drown unless we take action now!


Red Square

Excellent PeopleLogik(TM), Comrade Opiate. It gives the key to understanding Al GOre's quote from the same speech:
"The only way politicians will act is if awareness raises to a level to make them feel that it's a necessity."
Meaning that the level of awareness is already above the heads of most children, who have been completely immersed in it for quite some time in their publik skools. And if the level of awareness isn't yet high enough to reach the independently thinking adults, just give it time. Today's adults are tomorrow's necro-proxy voters, and today's children will emerge from under the surface of Goo of Awareness completely transformed, mutated, and ready to comply to the will of the Awareness Giver.
On the other hand, if Goo of Awareness is thicker than ocean waters, isn't it in itself a perfect protection from the rising sea levels? That would be a perfect way to explain it in the future: we have turned back the tide of rising waters with the counter-tide of awareness.
However, there is still a little inconsistency that I hope Al Gore will fix. The term "
Global Warming
" is now officially replaced by a more temperature-neutral "Climate Change," seeing that it's unclear whether the planet is really warming or cooling. But references to melting polar ice caps and rising oceans still clearly imply "warming" because a "cooling" would shrink the oceans and thicken the ice caps.
So perhaps instead of "rising waters" he should be talking about "varying levels" that work either way. Besides, that would help the cause since the ocean level is always different due to low tide and high tide. Thus, by pointing at high tide you can show evidence of "Global Warming" and by pointing at low tide you can show evidence of "Global Cooling." This will be exactly what our Climatologicalistic comrades have been doing so far by using the changes in seasons or in warm and cold weather to prove that the end is near.
And if they've been able to make everyone neurotic about changing weather, they can also make all those living in the coastal areas neurotic about changing tides.
E.g., imagine this commercial. Two men on a beach (similar to Corona commercials).
======= DNC COMMERCIAL ==========
MAN 1:
Remember an hour ago the water was two feet away from the buried beer bottles? Now it's already reaching them. If it goes on like this for a few more days, we will soon all be under water.
MAN 2:
Oh no, man!!! Why can't someone do something about this???!!!
MAN 1:
Al Gore and the Democrats are trying hard, but they are being obstructed by the Nazi Deniers. We must eradicate the Nazi Deniers and give all power to Al Gore and the Democrats.
MAN 2:
I think the water has stopped and is now receding. What could that mean?
MAN 1:
Obviously, our worrying about it did the trick. History shows that if enough people worry about something and protest against it in the streets, the trouble goes away. Remember how we worried and protested against Bush? He went away because of us. We worried and protested against the Iraq war? It went away because of us. It's called People's Power. And worrying is called Awareness.
MAN 2:
Is this how we made the Ozone Holes go away?
MAN 1:
You got it, comrade! And so did Overpopulation, Mass Starvation, Man-Made Continental Drift, and other imminent evils identified by progressive science. Awareness leads to People's Power, which is the same as Government Power, only it's too complex for the People(TM) to know how it really works.
FADE TO AL GORE
AL GORE:
That's right, it's too complex. Leave the thinking to us! Vote Democrat and submit to the controlling powers of the central government if you want to survive this and any other disasters we will alarm you about.
DISCLAIMER, QUICKLY:
Actual results may vary. Tides are caused by the moon. Warming is caused by the sun. Alarmism is caused by politicians. Government Power is not People's Power and never has been. Once we take over the power you're on your own, suckers! Not applicable in all States.

Komrade Zarkof
Thank you, Comrade Opiate of the People and Comrade Red Square. Your clarification of High Priest Gore's Sermon on the Podium, is most inspiring and insightful.

Al Gore will have statues erected in every town and country, because of his bold calls for action to save Mother Earth. He is truly concerned about saving the Children™ from drowning and heat stroke.

Lord Obama will have to give Al Gore a Cabinet position when He declares himself Maximum Leader for Life of the USSA.


Evil Smiley