Ivan the Stakhanovets

President Obama: ALL LIVES MATTER
In a serious breach of security and protocol, Dear Leader's (PBUH) white half uttered the offensive phrase "all lives matter" when discussing the current truth of how only black lives matter.
Secret service agents quickly removed the president, took him to the White House clinic where he was administered a 40 oz malt liquor, and a pack of Kool menthols.
Dr. Jay-Z reports that the President will be fine.

Commissar Obamissar V

Anyone who believes "all lives matter" needs to report to Platform 6. Immediately! Reeducation will commence promptly!
Politically Korrect Prog 1
Imagine that you're sitting down to dinner with your family, and while everyone else gets a serving of the meal, you don't get any. So you say "I should get my fair share." And as a direct response to this, your dad corrects you, saying, "everyone should get their fair share." Now, that's a wonderful sentiment — indeed, everyone should, and that was kinda your point in the first place: that you should be a part of everyone, and you should get your fair share also. However, dad's smart-ass comment just dismissed you and didn't solve the problem that you still haven't gotten any!

The problem is that the statement "I should get my fair share" had an implicit "too" at the end: "I should get my fair share, too, just like everyone else." But your dad's response treated your statement as though you meant "only I should get my fair share", which clearly was not your intention. As a result, his statement that "everyone should get their fair share," while true, only served to ignore the problem you were trying to point out.
See?! It's Black Lives Matter (too). Even if it's shouted at white people while killing white cops, it's got a (too) at the end of it! Furthermore, white comments don't solve problems. Black shouts do! Get with the program, people!
Don't get it yet?
Some Twit from the Twitterverse
For starters, someone proclaiming that a specific group of lives matter is not saying other lives don't matter. If you seriously think that, you need to sit with your ignorance and not talk. If you're being disingenuous (more likely): knock it off. But proclaiming that "all lives matter" in the face of Black people being murdered at the hands of the State is a further act of violence
That's right, folks. YOU ARE THOUGHT CRIMINALS AND HATETHINKERS!!
Same Twit as before
And we- white people - are complicit in this system. Stating that "all lives matter" does not exempt us from dealing with that. Stating - forcefully and often - that Black lives matter is a shout in the face of white supremacy and a declaration of resistance.
Shirking responsibility is for the MTE and The Obamessiah, not for whitey. Are you trying to use white privilege to trample minorities?? Instead, shout forcefully and often Party-approved slogans!!!
The People's PuffHo
When a white person responds to the statement "Black Lives Matter" by countering with "All Lives Matter" they exhibit a blindness to the privilege of living outside of a painful and marginalizing lens that highlights their race; a privilege not enjoyed by black and brown people.
You have just been privilege-checked! Acknowledge your social identity, white people. Remember that simply by being white, you're keeping other comrades down. This is not a post-racial society! Until we complete the
redistribution of race
we must ensure that everyone understands that lives that already matter no longer matter! Only non-white, non-police lives need to be protected from the excesses of a militarized police force. The militarization of police and over-use of force is essential to ushering in the Progressive World of Next Tuesday.
It's important that police, however, need to kill more white people as the ultimate privilege-check! Shoot first, imagine a transgression of law or threat to safety later needs to be the name of the game when officers encounter white people and NEVER a way of dealing with black people. Even when killing family pets, officers disproportionately target non-white dogs. This must stop!
Never mind if the person roughing up convenience store clerks and stealing cigars is black... Under Communism, theft may be a crime against the state, but as we agitate for revolution, it's a useful propaganda tool if the person who gets shot is black so we can create division among the proles! Double-think necessary, Comrades! All will be killed for theft soon enough, once our revolution is in full swing and true Communism replaces flowery liberalism with UNIVERSAL EGALITARIAN OPPRESSION FOR ALL! As for the pets, it's only the fault of the white dogs that they were living in homes the police needed to respond to. Non-white pets, on the other hand, are underprivileged victims of prejudice. BLACK LIVES MATTER! BLACK/BROWN/TAN/BLUE/RED/DOG LIVES MATTER! (too)
This concludes reeducation for the day. Now, go shovel some permafrost to make the message sink in better...

Captain Craptek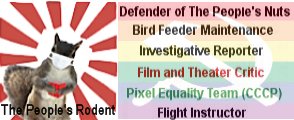 Ivan the Stakhanovets

Can you imagine my embarrassment when I learned they were fussing about LIVES...?
I really had it wrong. So close, but just not quite there.

Comrade Putout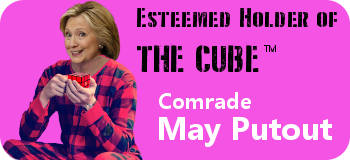 #BLACKICEKNIVESMATTER spokeshole Ivan the Stakhanovets
Can you imagine my embarrassment...
.




Ivan

... I'd be more embarrassed about my date for the #BLACKICEKNIVESMATTER march!


.
.


Here's the original...


.
.


OK that really wasn't the original!


.