Opiate of the People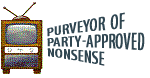 Mainstream American jour0lists are expressing outrage and vomiting metaphorically in response to the terrible, unprofessional treatment accorded to excellent US president Barack Obama during a televised interview with Spanish language station Univision today.
Punchy Sulzberger, publisher of the NY Times, was so upset he could barely finish his coq au vin at dinner this evening: "Their behavior was unconscionably rude, very insulting... they treated this wonderful man like a common criminal", he sputtered, barely able to contain the haughty disdain he usually only displays towards Republicans.
The normally reserved Katrina Vander Weasel of Politico was beside herself with rage, causing many observers to see double. "It's racism, pure and simple!", she exclaimed, noting that the so-called interviewers were white hispanics like George Zimmerman, the man who murdered the president's metaphorical son. "The white hispanics have a vendetta against him", she noted with disgust. "I'm sure it's the white part of them that's doing it, the hispanic part simply can't control the white part."
One media figure, who spoke off the record, suggested that the FCC should consider revoking Univision's broadcast license in retaliation for their attack on Mr. Obama:
"This sort of thing does not meet the free speech test - it's offensive to Americans like President and Mrs. Obama. Free speech is not about hurting people's feelings, it's about our rights to prevent people from saying what we don't want to hear.", he averred. "The Chairman of the Joint Chiefs should do his damn job and call Univision up and have a talk with them."
"I wouldn't be surprised if this video doesn't cause angry Muslims to attack the Spanish embassy", UN Ambassador Susan Rice conjectured.
The controversial interview began cordially enough with the interviewers greeting the President and kissing his ring. But without warning, Univision co-host Jorge Ramos tore into Mr. Obama, launching this vicious tirade without provocation:
Quote:
"You told me during an interview that you and Mr. Holder did not authorize the Fast and Furious operation that allowed 2,000 weapons from the United States into Mexico and they were in the drug trafficking [cartels'] hands. I think that up to 100 Mexicans might have died and also American agent Brian Terry. There's a report that 14 agents were responsible for the operation but shouldn't the attorney general, Eric Holder, he should have known about that and if he didn't, should you fire him?"

http://dailycaller.com/2012/09/20/obama ... ic-holder/

"This might just be a gaffe by a bunch of amateurs", suggested MSDNC pundit Racheal Madcowdisease. "I mean, no professional journ0list asks a president questions about issues that his campaign has already produced talking points on. It just isn't done."
"No white president would be treated this way", responded David Corn of MotherF**ker Jones. "You show me ANY example where a white president was treated with such disrespect and I'll eat the two minutes of tape I edited out of the video Jimmy Carter's grandson stole from Mitt Romney's fundraiser!"
The remarks were made during the popular all-night "Two Minutes of Hate" segment on the widely-watched and critically acclaimed MSDNC network.
White House insiders acknowledged that the president should simply just stop doing interviews with foreign press people because "they don't know what the hell they are doing." "He should stick with American journ0lists like David Letterman", lamented an aide. "Americans show the proper respect, like the UK reporters do for the queen. A Democrat president is America's version of a queen, and she should be treated as such."

Red Square

MSM Hispanic Skin Color Advisory System

SovietPineCone

If people have microphones, we should make this articles into a radio short. For poops and giggles :D


TheFineReport.com


Commodore Snoogie Woogums
Alright, who was the Comrade that actually let this random act of real journalism to happen????

Names, I want names!!!!


R.O.C.K. in the USSA

Comrades, I saw snippets of this >spit< "interview" last night in my hotel room.

Disgustingly racist, it was, and I agree with Ms Rice in saying that I wouldn't be surprised if a random group of non-planned, totally spontaneous Mislooms, thinking about a cartoon of the Prophet wearing a bomb in his turban, stormed EVERY building in Spain as a result of this raaacist "interview"!


Jíbaro

Media Matters has just started to petition the FCC to revoke Univision's license.


bringsdogtowork
Obama is like the fox assuring the farmer he will conduct a thorough investigation into the hens missing from the hen house.