Opiate of the People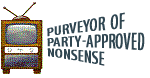 Hey Comrades....

Need a professionally-organized
grassroots demonstration in a hurry?

Want an authentic-looking
anti-capitalist RIOT on a limited budget?
Before you call ANYONE else, call...
YES,
PEOPLE'S ASTROTURF
has been
a leader in the political street theatre and community organizing business
for over 700 YEARS!* WE can provide
professionally-choreographed and executed mass demonstrations
of all sizes and types to create the illusion of popular support for whatever bullshit YOU want to peddle! Our professional demonstrators are all trained in the
Allinsky School Method of Political Method Acting**
and will convincingly portray REAL people and, unlike amateur players,
have enough sense not to tell right-wing bloggers they've been paid to cause trouble!
Here's a sample of just some of the services we provide:
Sit-ins
Community organizing
Media events - for when it's not true but it should be
Michael MOORE "documentaries!"
Spontaneous Demostrations
Mass Protest Marches
Vote Fraud
Symapthetic speech audiences and/or hecklers
Congressional Committee Testimony
email hate campaigns
blog comments and internet trolling services
Potemkin villages fabricated - call for estimate!
Fainters (Obama uses us frequently!)
Wisconsin Style ™union austerity protests
OCCUPY ™encampments - feces and urine supplied free of charge!
RIOTS - we are fully insured for all accidental and intentional injuries
Proud Sponsor of Climate Change!
Jihad-related activity - Special order ONLY, call for details
We Speak UN!
Hollywood celebrity worship - make your narcissistic fantansies feel REAL!
And MANY, MANY MORE!
Our state-of-the-art printing services can provide
authentic-looking homemade signs, posters, banners, floats or WHATEVER props you need
to make YOUR demonstration look energized and enthusiastic! We have professional linguists who can make
printing and spelling mistakes consistent with the socio-economic class of people you wish to astro-tur
f - they will ensure the wording and spelling LOOKS the part but will STILL BE UNDERSTANDABLE - because there's no WORSE optics for TV viewers than seeing a demonstration and not being able to figure out what the signs say!
We are discrete -
we won't advertise publicly for help like some political theatre operators
- opponents will
NOT
know your movement is astroturf! We use professional Hollywood-style casting couches - prospective actors will think they are auditioning for an new HBO movie!
So what are
YOU
waiting for? If your political campaign, grass-roots advocacy movement or class-warfare kabuki dance is faltering, we will help you get the media attention you need and deserve, just as
WE'VE HELPED SO MANY OTHERS!
We accept: unverified MasterCard or Visa, laundered cash, drugs, EBT cards or any other untraceable cash-equivalents. NO PERSONAL CHECKS ACCEPTED!***

I use PEOPLE'S ASTROTURF for all my spontaneous demonatrations!
- David Axelrod

---
With PEOPLE'S ASTROTURF and Sandra Fluke, I'll soon be House Speaker again!
- Nansky

---
Cant do better than PEOPLE'S ASTROTURF at twice the price! It's like breaking the Bank of England all over again!
- Boy Georgie

---
CALL NOW! 1-800-FAKE-LEFT
PEOPLE'S ASTROTURF
WE'RE

ALL

THAT'S

LEFT!
* Yeah, it's an exaggeration but we ARE professional liars, aren't we?

** From his book, "Rules for Radical Assholes"

***
We are socialists but we gotta eat too, knowwhatI'msayin'?

Proud Recipient of The
PARTY
™
SEAL OF APPROVAL

ThePeoplesComrade


R.O.C.K. in the USSA

Comrade People's Comrade - a most equally excellent AstroturfObama™ logo!

I'll take three, please, with a side order of algae to go!


ThePeoplesComrade

Comrade ROCK, being a People's Cube member entitles you to the collective discount.