Chief Designer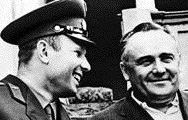 While we anxiously await the glorious arrival of the glorious centennial of the glorious Oktober Revolution, let us not forget another glorious ending-in-zero Soviet anniversary on this date.
It was 60 years ago today that we lead humanity into the Kosmos with the launch of our "Fellow Traveller," better known to the world as "Sputnik 1." It was performed on my magnificent ("glorious" is not glorious enough) R7 "Semyorka" booster which those despicable hooligans in NATO had the audacity to code-name "Sapwood" (ptui!).
For those of you who would like to read a layman-friendly account of my R7 (and not, incidentally, Sputnik) here is an article by Anatoly Zak, hero of Soviet space memories by founding and administering RussianSpaceWeb.com.
The Rocket That Launched Sputnik and Started the Space Race
- SK

Genosse Dummkopf

Chief Designer
... read a layman-friendly account of my R7 (and not, incidentally, Sputnik) ...
OFF
(snicker, giggle)
"... To give the Kremlin a real incentive for endorsing the program, Korolev employed a standard trick – we need to do it soon, he argued, because Americans are already working on it. ..."
What makes a prolific scientist/engineer, laden with managerial duties, really great: To (also) understand the rules and buttons-to-press of the human
Affenzirkus
(alias three-ring circus).
OFF
(Muse Memoria)
1957, October,
gimnazjum
(prep school), break ‒ walkin' in corridors, eatin' mom's sandwiches, talkin'... BANGGG!, door of teachers' room flies open, a prof jumps wildly up-'n-down ‒
c'mon! c'mon! radio! here! here! bee-bee-beep-beep! bee-bee-beep-beep!
You know, no iPhones then.
ON
Now back to our sharashka ‒ shovelling atoms, axioms, agitprop, and antic absurdity.

Genosse Dummkopf

Chief Designer gives his Most Glorious Touch
to Semyorka (R-7) and Laika :
Part of
100 years of Motherland!
celebrations.
Remember -
No Revolution, No Semyorka!