jackalopelipsky

Comrade, has your Sh*t Hole Collective suffered comrade loss? In Detroit, Philadelphia, Atlanta and in various other Sh*t Hole Collectives across the Amerikkkan Fruitlooopy Plains, comrade loss is at an all time high.
AOC understands the grief and suffering of comrade loss Amerikkkans are experiencing.
Why not use illegal aliens from Sh*t Hole Collectives in Honduras and Guatamala to replace Amerikkkan Sh*t Hole Collective's murdered sons, daughters, mothers, fathers, uncles, and other ad hoc members of the Amerikkkan collective's family tree?
An Amerikkkan mother, assigned to
Baltimore's Sh*t Hole Collective
was grief stricken at the homicide statistic of her 18 year old daughter. There was a missing comrade in that Amerikkkan mother's collective. She was distraught at the loss of her daughter. This mother needed something to change in her Sh*t Hole Collective.
Just the other day, the Chicago Sh*t Hole Collective was alerted to the need to replace 4 members of the collective.
Thanks to AOC's Comrade Replacement Plan - a brand new 18 year old illegal fleeing Honduran Sh*t Hole Collective - is being shipped at future generation Amerikkkan expense - to meet the need of the collective's suffering mother in Baltimore. Relieving suffering in such a manner is true innovation of government priorities in the Biden Administration.
AOC says, this is The System™ of Government working at its very best for the people trapped without hope in Sh*t Hole Collectives across Amerikkka, Honduras, and even, The Planet.

Comrade Jenkem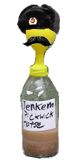 Indeed comrade. It is not fair we can not all be equally distributed in a holes so we sha have the s hole equally distributed to us.


jackalopelipsky

Tucker Carlson was not impressed with AOC
's new illegal migrant redistribution plan.
Tucker Carlson:
Quote:
"Who cares what she thinks?"

Genosse Dummkopf

Politruk She Guevara
must direct a part of her transports straight to Germoneystan!
Here, comrades Melons - outside green, inside red - Hope for Change: Bundeskanzler/Bundeskanzlerette
this fall
! (election September 26th !*)
Zerefore, ze Greens strive here to lower voting age to 16 (climate- /and generally useful-/ idiot age! Saint Greta works!). Yet - still not enough! (ze Chermans got lazy in brood production!)
Occasional Cortex
- your transports here! Border wide open!
Vee need Ze Grait Rezet!!!
* uh, wait.. maybe deferred.. or even cancelled.. (b/c, you know, plandemia...)
(Guevara-basics by a certain joshcartoonguy)

KOOK

I don't know which is more apt: "She Guevara" or "Alexandria's Occasional Cortex." Perhaps we should conduct a poll (but without requiring any ID for voting).

--KOOK