Comrade Vlad Linen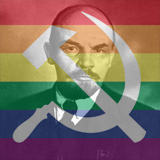 Comrades, we have a problem! Did someone get a patent on our glorious way of thinking? We need to sue!
I was assigned to right-wing-hate watch duty and read a transcript from that horrible, evil, detestable pig (hope that doesn't offend our Mooslimic comrades) <spit> Rush Limbaugh <double spit>. What did I hear? Why, an equally disgusting reichwinger called him up and said that our People's Media has declared them (reichwingers) to be in the minority. He furthermore stated that he was simply born this way. And if he is in a minority and born this way, he deserves special rights!
This is what we have said about our glorious LGBTQXYZABCCBSNBC comrades. Their whole lives are based around their sexual orientation and really nothing else is of importance. So, for others it is possible their whole lives are based around their religious <spit> and political views.
We need to fix this fast! We need to convert our climate scientists like Dr. AlGore into geneticists. These new geneticists will have to quickly discover an LGBTQ gene and pronto! Then they will need to certify that all LGBTQ people have this gene. Instantaneously, we can say that THEY were born this way but not the reichwingers. The geneticists will certify that there is no such thing as a reichwing Christian hatemonger gene and thus they CHOOSE to do that. This will stop reichwingers in their tracks before they get any fancy ideas.
This also means that people with LGBTQ genes have no choice but to act like animals such as cats, dogs, squirrels and kangaroos (sorry if I have just offended numerous members of our gulag!) and thus must be served cake at their LGBTQ weddings by reichwing Christians. Pictures of them must be taken by reichwingers and reichwingers must do their flower arrangements.
Conversely, it also means that cats, dogs, squirrels, kangaroos and other animals must be given government marriage certificates and have reichwing Christians serve at their weddings. We must expand the franchise! In return, they will also vote for our party's candidates.

Dr. Worddust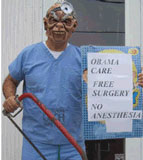 Ah, Kom Rad Vlad. Do not fret. Be Vlad the Glad! All riechwingers will be exposed in our schools with Kommon Kore or by our Prog Professors in Kolleges. No need for fancy genes or janes. Preferred method of removal is hammer and sickle but my saw is also approved for social operation aka riechwing tumorectomy. I have saw and will travel. You have my number, point me in the riech direction. Be assured the ACA is aware of the problem and is acting appropriately. Great Leader has already set his plans in motion. The new majorities have been arranged and the subsequent new majorities are on the horizon of next Tuesday. It IS Springtime for Great Leader.


Red Square


Red Square

If a male inmate gets a taxpayer-funded sex-change operation, do they keep him in male prison or do they place him among women? Is it a win-win all around for this comrade?
Inmate's Sex-Change Surgery Must Be Funded by Prison, Tax Payers: Judge
Quote:
An inmate convicted of murder will receive taxpayer-funded sex-change surgery that could cost $100,000 after a federal judge in San Francisco ruled that not doing so would violate the inmate's constitutional rights.


Chedoh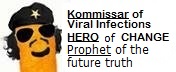 This suggestion that they are born that way SICKENS ME, Comrade. I have had ENOUGH of these Reich Wing bullies and their stone aged ideals infringing on the modern science of LGBT genetics! This is an outrage!


Lev Termen
I'll see that whine, and whine an octave higher.

Comrade Vlad Linen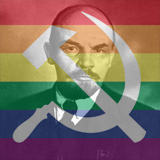 Comrade Dr. Worddust, I think this is a glorious idea! In fact, ObamaCare should require that all evil rethugs get a visit from you and your saw as treatment. In fact, you and Commissarka Pinkie should equally visit them. She can give them some shovel therapy and you can then provide saw therapy.

Comrade Red Square, your glorious picture gave me an idea: Shouldn't Dear Leader make an edict that all pinatas be made to look like Bush <spit>, Sarah Palin <double spit>, Rush Limbaugh <triple spit> or Glenn Beck <quadruple spit>? Inside the pinatas would be EBT cards. All the poor can be blindfolded and pick up as many EBT cards as possible. They just should avoid using them in Kansas since that evil rethug governor is taking away all the fun people can have with them!