Opiate of the People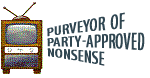 Comrade sports fans around Obama's world received exciting news today when it was announced that President Barack Obama has been named the MVP of Super Bowl XLVII, the NFL championship game which will be played in two weeks.
The MVP of the game is traditionally chosen by a combined popular vote of sportwriters and fans, the weighting being 80%-20%. However, in celebration of the start of the Dear Leader's 2nd fore year term, the sportswriters
conspired
spontenously decided to award the MVP on their own.
"The hell with the fans", one writer said. "They are ignorant louts and would probably chose the wrong player anyway. We are experts and we know what is correct!"
The Super Bowl MVP award is given to "the player deemed to have made the most significant positive impact on the outcome of the game", according to the Football Almanac. That description fits President Obama to an "0", according to supporters of the idea. "Barack Obama has made the most significant positive impact on the UNIVERSE", as one excellent writer put it. "Since the Super Bowl is part of the universe, it stands to reason he made the most significant positive impact on THAT, too!"
~
Still, some are skeptical: "The sports journ0list community has felt left out because they haven't been able to lavish
undeserved
praise on President Obama like their colleagues in 'real' news have. This is their attempt at making up for that, their chance to say 'Hey, we wuv you as much as THEY do, Dear Leader!"
Regardless, many of the highest profile non-racist sports journ0lists adamnatly defended their pick : "I know if he played in the game, he would score the winning goal... I just KNOW it! So he deserves the award!" whined Matt Chrishews, an unusally sycophantic media personality even by today's standards.
"I voted for him because of his great judgement", said Toupee, an MSNBC sports reporter. "Not only that, but Green Bay is alive and Babe Ruth is dead!... No, I don't know what that means, I was hoping to walk away before you had a chance to ask", he added.
The majority of those willing to comment were in favor of the pick more for its symbolic value than any other reason: "Look, Obama won the Nobel Peace Prize without ever doing much peace making", said Milly Databank of
Newsweek
Current TV
Media Matters. "So why can't he win the Super Bowl MVP without doing much super bowling?"
"Minority groups have been under-represented in Super Bowl awards distribution for so long", said Froma Halibut of DNC-TV. "This award is a blow for social justice which takes precedence over petty concerns like playing well in some game."
And what of the players in the actual game? Do they deserve any recognition for what they actually accomplish on the field of play? Do results still count?
"After the glorious results of the joyous 2012 election, you can still ask a question like that with a straight face????"
"Well, I feel good about my vote, that's all that matters" said Halibut.

Anyer Marx


R.O.C.K. in the USSA
A well-deserved honor, comrades!

Comrade Putout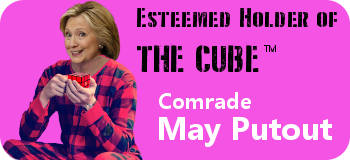 R.O.C.K. in the USSA
Oh my.


Nomenklatura-climber

Comrades,

We should all be glad that our beloved Comrade Party Chairman and President Barack Barackovich Obama, through Executive Order #4883201986532 [Part IV, Section F, Subsection 14 - "Professional Sports"] will assume direct supervision of the NFL and regulate through the Affordable Healthcare Act due to numerous head injury grievances the Professional Football Players Union has filed against the greedy Corporate Capitalists who presently oppress the worker-players. Once all the teams are Collectivized, new rules will be written which forbid physical contact between players, thus limiting injuries and potential stress claims by players fearing violence on the field. There will also be one team, which all players will play for, and, like youth sports, there will be no scores kept and all players will receive a Bowl Ring at the end of each season.


ThePeoplesComrade


Expel The Red States
If doubters should question The One's stanima when the third term election cycle comes about we will see The One put them to shame by establishing multiple world class swimming records by swimming the Chesapeake Bay


Comrade Putout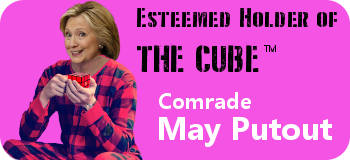 Comrade - you blush too easily!