R.O.C.K. in the USSA

Comrades, I am here for telling you that our glorious BATFEYT (Bureau of Alcohol, Tobacco, Firearms, Explosives, and YouTube)
has successfully raided
an infidel posing as a Professional Russian on YouTube.
FPSRussia has been blowing up cars and bad guys on YouTube for quite some time, and in fact it's one of the most popular channels on YouTube, with nearly 4 million subscribers to the channel. Unfortunately, by the time our glorious federal law enforcement arrived on the scene(s) of FPSRussia's home and his father's farm, all of the obviously illegal weapons and explosives were nowhere to be found, so they left empty handed.
Just to show how bad this FPSRussia is, I will now post his most recent video for your education and general disgust:
Please, comrades - do not watch any more of this Professional Russian's videos than this on YouTube - they are VERY dangerous!

Comrade Putout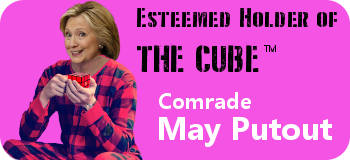 R.O.C.K.

- believe it or not that guy was my 'boy friend' for a while!

But he kept scaring the crap out of me!

R.O.C.K. in the USSA

Dear Comrade May, I am here for feeling your pains and terrorisms. He is an evil and destructive man. Do you realize how many buildings in the Gulag could have been painted with those cans of paint he wantonly blew up with that Soviet shotgun???
Tell me, did he ever come after you with Charlene? The Quad Rotor Machine Gun? And most especially, was it before or after he had mounted the incredibly accurate and precise People's Optic?

Comrade Pistov
You Comrades in PRoTexas have all the People's fun. Fun needs redistribution: Again.


Captain Craptek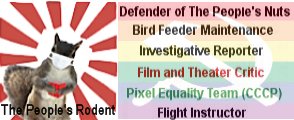 Too bad he destroyed a really nice quad copter. I could have used it to put out the garbage or scare kids away on Halloween. Oh, well...


Kelly Ivanovna/келя ивановна
Comrade R.O.C.K, how irresponsible of you to post those videos. While I was watching, one of those evil weapons jumped out of the video and chased me around, trying to kill me. I was lucky Comrade Pinky just happened by with her shovel. She walloped that murderous gun a good one, then wrestled it to the floor.

I owe her my life.