Red Square

BBC editors honor their spiritual teacher with this story.
An ice pick used to assassinate Russian revolutionary Leon Trotsky may have surfaced in Mexico, still bloodstained 65 years after his murder.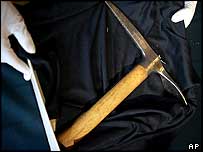 Ana Alicia Salas, the grand-daughter of a secret policeman who probed Trotsky's death in Mexico City, says she has it.

But Trotsky's grandson has told the BBC that he will not deal with Ms Salas if she is only looking for profit.

He says he will have a blood test only if she donates the ice pick to a museum based in the house where Trotsky died.

Leon Trotsky was a key Bolshevik figure in the Russia Revolution, helping to overthrow the Tsarist regime in Russia and becoming an influential figure in the early days of the Soviet Union.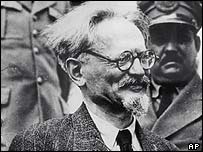 He was forced into exile in the 1920s after losing a power struggle with eventual Soviet leader Joseph Stalin.

In 1940, a Spanish-born Soviet agent, Ramon Mercader, murdered Trotsky at his home in Mexico City.

Dangerous exhibit?

According to legend, even after the ice pick was embedded in his forehead, the intellectual son of a Ukrainian farmer fought back.

[In fact, Trotsky was just as much a son of a Ukrainian farmer as Noam Chomsky is a daugher of an Apache hunter-gatherer -- RS]



Trotsky grappled with his assailant before moving to an adjacent room, where he collapsed on the floor.

While Mr Volkov would like the ice pick donated to the museum if it is proved to be the murder weapon, others are not so sure.

"I personally would not like the murder weapon in the museum," Beatrice Lopez, who works as a guide there, told the BBC, although she admitted it would boost visitor numbers.

"I think the murder weapon would attract fanatics and I think it would be dangerous to have it here."
There's more on the original BBC page. What they forget to mention is that Lev Trotsky was the one whose life and image Orwell used in his 1984, to describe Emmanuel Goldstein, the Enemy of the People, the principal figure of Two Minutes Hate instituted by Big Brother (copied from Stalin who villified Trotsky, extermianted his followers, and hunted down the man himself).
Actually, we tend to agree with those observers who suppose that history would have turned out much the same way had the other man won - the ice pick would be sticking out of Stalin's head, that's all. And it would be Stalin's grandson today objecting to profiteering and, just as piously, demanding free sharing of the murder weapon with the public.
George Orwell:

As usual, the face of Emmanuel Goldstein, the Enemy of the People, had flashed on to the screen. There were hisses here and there among the audience. The little sandy-haired woman gave a squeak of mingled fear and disgust. Goldstein was the renegade and backslider who once, long ago (how long ago, nobody quite remembered), had been one of the leading figures of the Party, almost on a level with Big Brother himself, and then had engaged in counter-revolutionary activities, had been condemned to death, and had mysteriously escaped and disappeared. The programmes of the Two Minutes Hate varied from day to day, but there was none in which Goldstein was not the principal figure. He was the primal traitor, the earliest defiler of the Party's purity. All subsequent crimes against the Party, all treacheries, acts of sabotage, heresies, deviations, sprang directly out of his teaching. Somewhere or other he was still alive and hatching his conspiracies: perhaps somewhere beyond the sea, under the protection of his foreign paymasters, perhaps even -- so it was occasionally rumoured -- in some hiding-place in Oceania itself.

Premier Betty

Fools, only an idiot would use an ice pick. A true communist assassin would use a shovel.


Komrade Koz
I disagree Betty, what about the good ol' fashioned Klashnikov?  I still prefer the look of horror in my enemey's eyes when they see Russian engineering shoved in their faces.


Premier Betty

Yes, but sometimes it is more fun to beat the c**p out of someone than use a Klashnikov. Maybe there was a reason they used a pick instead of a shovel or Klashnikov, it was probably caused by a lack of welfare.


Hillary

Hmmmmm.............
Maybe they'll put in on E-bay and we could use it during Purge Season..


H