Karl Marx Treatment Center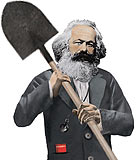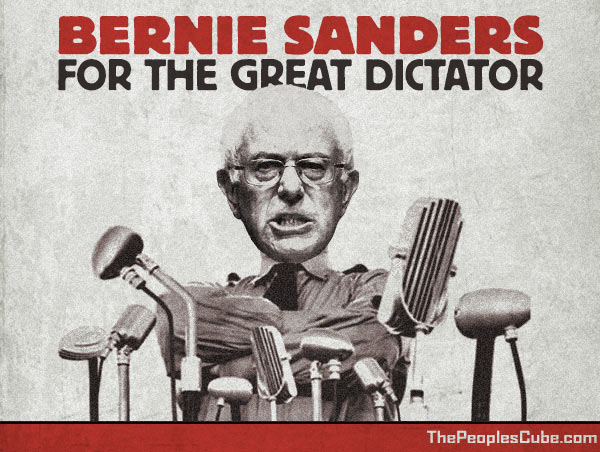 Why is everyone afraid of the word "dictatorship?" This word used to be perfectly acceptable on the Left.
Dictatorships used to be the wave of the future. Dictatorship of the proletariat was seen as the means to achieve the socialist future and was embraced openly on the Left. But then the word "dictatorship" was dropped from our lexicon. Marx was for dictatorship; he said so and openly insisted on it, like a man.
Marx was unafraid. Throughout the first decades of the twentieth century we did not shy away from or hide from the word "dictatorship." Our fathers and grandfathers and great-grandfathers stood up like men for dictatorship, proudly and openly. Why shouldn't we? What happened?
McCarthyism is what happened. McCarthy demonized the word. And we are still living in the crazy upside-down world McCarthyism made.
Isn't it time we stopped living in the dark night of McCarthyism? Isn't it time we stood like men? We direct this at Bernie Sanders.
Everyone thinks that Bernie Sanders stands for free health care, free college, free this, free that, the destruction of billionaires as a class, the outlawing of fossil fuels to foster state-created energy production, and so on and so forth, with all the specifics you can point your finger at.
But this platform isn't what Bernie Sanders stands for.
Bernie Sanders stands for Bernie Sanders as the sole arbiter of what is right and wrong in society. There is no room for bourgeois notions of government. To implement Bernie Sanders plans Bernie Sanders cannot allow you to exercise your own judgement in most matters that affect your life. Your "right" to do anything you want counters Bernie Sanders' plans for society. Your bourgeois "liberties" would throw a monkey-wrench in the works of socialism. You will have to do as instructed or else.
Bernie Sanders stands for you doing exactly as Bernie Sanders says. Bernie Sanders stands for dictatorship.
We on the Left have to stop using weasel words for dictatorship forced on us by paranoid McCarthyism. That era is over. We can and must come out of the cold. We must stand up like men for what we believe as socialists: dictatorship.
The People's Cube calls on the great Bernie Sanders: Comrade! Stand up like a man for strong dictatorship by name! Stop using the McCarthyite era weasel words "democratic socialism." You stand for the dictatorship of the working classes. It takes a dictatorship to impose what is right and wrong on society. Break down the barriers, comrade! It is what a real leader does, strong and fearless.
The people need you to dictate. Be the great dictator!
Bernie Sanders for strong dictatorship!

Kapitan Kangaroo Kourt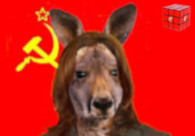 Inspiring stuff, Comrade KMTC. And Deer Leader (PBUH) has blazed the trail and shown us the way to dictate and avoid messy constitutional traditional methods of governing - such as representation of the ignorant masses - by side stepping the laughably named "checks and balances" with Executive Orders.

On a side note, if more checks are written, the balances will be much stronger.


Great Stalin's Ghost

Would Bernie really be a great dictator or merely a good one? Or, heaven forbid, a downright crappy one? Now, Obama, as Kapitan Kangaroo Kourt has pointed out, he would be a great dictator!


President Potemkin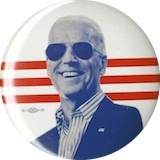 Don't listen to the lies of the corporate right-wing media. Bernie Sanders isn't the great dictator. Hillary is the great dictator!


Neotrotsky

Indeed comrade!
We need more than just a weekend with Bernie
We need 8 years!
Besides, when one thinks about it
If Bill does not want Hillary why should the American Voter

$.$. Halliburton

The great dictator.

He's got the whole world in his hands.
He's got the whole wide world in his hands.
He's got the whole world in his hands.
Until reality blows it all up in his face.




Captain Craptek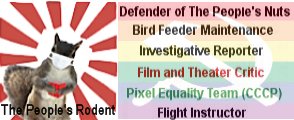 $.$. Halliburton
The great dictator.

He's got the whole world in his hands.
He's got the whole wide world in his hands.
He's got the whole world in his hands.
Until reality blows it all up in his face.


Very entertaining! This demonstration (minus the unfortunate ending) could provide the basis for a new Olympic event. I'm certain our own Dear Leader would do quite well at this globe juggling.

Pamalinsky

Bernie wants to raise taxes for everyone! It's only fair. I mean, 90% tax for all! Yeah, that'll work.
H/T Instapundit