Janet

Every Tuesday morning I like to make it my personal treat to peruse the Daily Kos for inspirational lock-step parroting of DNC talking-points. Yes, call it a vice of mine (along with hot, stinky lesbo sex) to pick out that one diary, that one solitary glimmering diary of hope, that truly catches my eye.
Today's Daily Over Kos of progressive truth is titled
Don't Blame "The Government," Blame the Crooks
(Mmmm, Big government!)
~
In his diary, author fatbyjhnsn (aren't we all fat by President Johnson!?)argues undeniable truths of how the problem isn't government, no, but is instead Republicans running the government (we all know how little, small, itsy-bitsy government is inefficient, don't we girls!).
fatbyjhnsn at the Daily Kos
Instead of letting the Republican party trick America into blaming the nebulous "system" for their colossal failures, convincing us that the government is inherently too stupid and too encumbered with bureaucracy to solve our problems, blame the real culprits. Blame the crooks. Blame the liars…
Yes! That is exactly what I would have said if I could do the post-Waco press conference all over again! Government is not weighed down by bureaucrats, but is instead weighed down by Republicans (and Republicans who vote and actually speak). Also, we need more bureaucrats to help run *our* utopian vision of government. Yes, we will also need more of your money to pay the extra couple hundred-million bureaucrats we will hire to help us 'manage' this utopian vision of government.
fatbyjhnsn at the Daily Kos
If you don't trust the government, you either don't trust yourself, you don't trust those people who you elected, or you don't trust the system as a whole.
Exactly! When we say "speak truth to power", we are of course referring to talking truth to those who disagree with us and Marxism in general. It is A-OK to question people who disagree with us and to distrust them. It is not OK, however, to distrust us when our primary objectives are to:
- Take things away from you like private property.
- Take guns away from you in order to leave you defenseless for when we come for your private property
- Set forth a rigid system of banning foods, drinks, SUVs, plastic bags and whatever else we may deem harmful to you and Mother Earth.
- Round-up "non-persons" for euthanasia like the mentally-ill, the weak, Global Warming deniers, Alzheimers patients, etc. This of course will be conducted by celebrated progressive ethicist, Professor Peter Singer.
Of course I could think of many more ways why we need government to be huge and all-powerful in order to usurp the "We the People". Speaking of "We the People", what does Fat by President Johnson have to say about that:
fatbyjhnsn at the Daily Kos
If you don't trust yourself to lead America, then democracy and small government clearly isn't the answer. Perhaps monarchies or dictatorships, which inherently assume that the people can't be trusted to govern themselves, would be better.
It would be much better! We need a strong centralized government with the power to make huge decisions which would re-shape this country into the totalitarian vision George Orwell intended it to be - a government forced upon the People but for Socialism (and those who manage it, mind you). The American people, the other 50% which are braindead like Fat by President Johnson, are the ones government will be for. We will ensure that him and many more like him will have access to everything in a timely fashion (think the DMV). This will include the food we have chosen he can eat, drinks we have chosen he can drink, music that we have chosen he can listen to(Tipper Gore will take charge of this department), books, movies, health care, automobiles, technology, all of it! We will be the DECIDERS! WE KNOW WHAT IS BEST FOR YOU, PEON!
And how will they, the 'patriots', tell us no? I mean, we already took their guns away from them! RESISTANCE IS FUTILE! Oh, and Thomas Jefferson – who we *idolize* - was all for the whole Big Intrusive Government bit, right comrades? (just agree with me comrades, nod those little heads).
fatbyjhnsn at the Daily Kos
Because so few people vote, and because third party options enjoy such low support in America, the right-wing theme of government mistrust is nothing more than a marketing ploy. In fact, some of the worst episodes of government abuse have occurred under Republican watch. Watergate, the War on Drugs, Iran-Contra, and the awful aftermath of Hurricane Katrina are all episodes in our history that I'm sure caused many people to lose faith in our system.
That and of course the War on Poverty, Universal Healthcare (coming soon to a hospital near you!), Waco (YAY!!!), draining Social-Security, 9-11, tax hikes, red-tape, Communism, leftist in general and Democrats in particular, Sweden, Public Education, Ray Nagin, Governor Blanco, wasted tax dollars and a hundred and one more reasons which would result in endless volumes of Big Government failure. But is it a failure? Is it fair to judge Big Government in a negative light like that? No, absolutely not! BIG GOVERNMENT WORKS! So long as *we*, the Democrats, are there to make it bigger, more complicated, and a trillion times more expensive! It works because we say it works, the DEBATE IS OVER!
Fight on, Fat by President Johnson!
Yours truly,
Mr. Reno

Father Prog Theocritus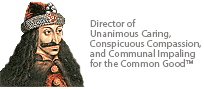 Janet, I saw a documentary on your masterful handling of Waco. I must say how impressed I am; only you could manage to administer justice to people who wanted nothing to do with us. And you're utterly right--there is no such thing as indifference. You're either with us, or you're toast and I like the way you toast things.

Did you take lessons from Meow's Helen?

And didn't you get in that sniper from Ruby Ridge? Brilliant to use such a good sharp-shooter again. And he was at the top of his game, killing that woman and child. Now that's really brilliant for people who think that they can do without us should be convinced that they cannot do without us and if they resist, then we need to show them that we need not regard their wishes for the dead have no wishes.

Brilliant work, Mr. Reno. Brilliant. Consider me your foremost admirer. But don't tell H8, because she thinks I'm in her corner. But you've killed more people lately so my wet dreams are of you.


Chairman M. S. Punchenko

If you were a womyn and had shiny chrome sides, Mr. Reno, I think I would let you walk me down that wedding aisle. You make me want to be a better progressive :-)


Father Prog Theocritus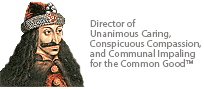 Meow, you really must let Helen go. I know, I know: Once you've had chrome, you'll never go home. But Helen is in the past, and recall what she's been doing for Michael Moore. She's a fallen toaster, Meow, a fallen toaster. Next she'll be popping tarts' tarts in a whorehouse in Juarez and after Moore that will be a step up, believe me.

And if she slips, you'll see her under a street light in Villa Acuña giving burrito jobs at a walk-up window. The high-class putas in Juarez do this in Boy's Town.

And then we'll see Helen at the Donkey Show.

Let it go, let it go. Paint the chrome on your car black. People may think you've become a Mennonite, but that's okay, and if you go all the way to Amish, the horses' hooves pulling your trap will remind you of Mr. Reno's.


Premier Betty

Quote:
and if you go all the way to Amish, the horses' hooves pulling your trap will remind you of Mr. Reno's.

Better keep him away from the butter churner.  Those things are just as fickle, and twice as seductive as any toaster.

Father Prog Theocritus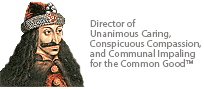 Janet has marked the butter churner for her own. It has a broad, wide base that is stable, and the plunger moves up and down. It is, unfortunately, thin and skinny but that can be remedied by a pony keg. For a while Janet had a Briggs and Stratton 4-stroke engine employed to make it move up and down but recently she has learned to time her Parkinson's medication.

The vibrations caused her to chip her teeth and fracture her jaw, which has been inlaid with titanium and is the model for Jaws on the Bond movie.