Red Square

Our friend and sometime contributor Julia Gorin is impersonating Clinton again. This time it's about the Nobel Prize.
Bill Clinton: Obama Stole My Nobel!

Father Prog Theocritus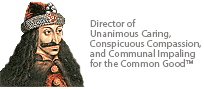 Oh yes, Barry O is the first global president. And China, India, Brazil and other countries have suggested that if the dollar falls to 50 yen then the dollar shouldn't be the world's reserve currency. The euro is a better bet.

How wonderful for Barry O and Nansky and Dingy Harry. In just a few years to manage to topple AmeriKKKa to be second place behind the Euroweenies.

It's what we deserve.