Comrade Pavlovski

Nanny Bloomberg was just trying to improve the collective with his 16 oz soda ban when a right
thinking
wing judge from the NY Supreme Court ruled his action capricious. Of course he has the right to micro regulate every aspect of his constituent's lives. Of course you know who seized on the opportunity to give him a taste of his own medicine. Wasn't he supposed to be cutting brush down in Texas? And wasn't "she" working in an some house of horizontal refreshment in north Alaskastan?

R.O.C.K. in the USSA

O.M.G.

Bush Coca Cola Boarding!!!!!!!!!!!!


Captain Craptek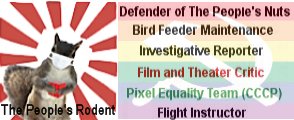 And look! Just LOOK at the way thoughtless Rethuglikkkans treat The People's property. That vehicle has another 3 or 400,000 good miles in it. Disgusting!


Commissar Wahoo

So much for 16 Oz, the Great and Powerful....


Fraulein Frankenfeinstein

This is the expected outcome when judges are appointed by:

1. Rethuglicans or
2. the peoples are allowed to go voting for the Rethuglicans.

This is of no good. No one needs Big Gulpers and we know all the Amerikan peoples are dying from plastic bags and 32 oz drinker, correct?!

We must overturn the overturning and restore our glorious fascist Bloomingfoolberg dictates.


Centers for Disease Control

MSNBC caught some of the action live:

Centers for Disease Control

Actually, the judge ordered Bloomberg to take home a case. Here is what it looked like:

Captain Craptek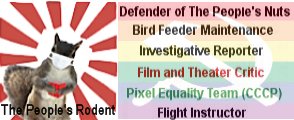 This image is:

1) An excellent example of Photoshopping

or

2) The virus is spreading from San Francisco to the jungle.