Chairman M. S. Punchenko

Here is a video compiled by the PUMA PAC Mensheviks. I suggest everyone view this blasphemous filth in order to become better acquainted with those who stand in the way of the Messiah.

May they all burn in the fiery unionized furnaces of New Jersey for their sins against the Obama!



( Isn't fun watching Democrats accuse other Democrats of disenfranchisement? )


Komrade Zarkof
This can only be the work of one person. Who can that be? The Master of Evil and Chaos, Rush Limbaugh!! May his RethugliKKKan soul burn in the Pit of Neverending Hope!!


Marshal Pupovich

Unbelievable! Where's the beet? Didn't the Empress win Texas? That blasphemer at the end talking about how important it is that everyone uses a system that they can depend on....she is right, Obama uses a system that they could depend on that everyone uses in Chicago. Off with their heads!


Red Square

Great video, especially the part towards the end where they complain that all the thuggish things that the Obama people were doing were blamed on Hillary supporters. The Obama operatives accused their opponents of having their own evil intentions? Why does that sound so familiar? Isn't that what helped the Democrats to destroy the GOP in 2006? And now the same tactics are beginning to destroy the Democrat Party from within...
I think a better title for this video would be "The taste of our own medicine"
PUMA is an interesting organization that is not being run entirely by cougars, in spite of what their name may suggest. They recently contacted me asking to put their logo and the link on the front page in exchange for having our anti-Obama materials all over their
http://JustSayNoDeal.com

Nancy

The enemy of my enemy is always my friend, Comrade Red Square.


Commissar_Elliott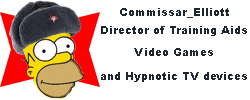 Outragous claims! Such blasphemes deserve a forced trip to the Gulags!