Red Square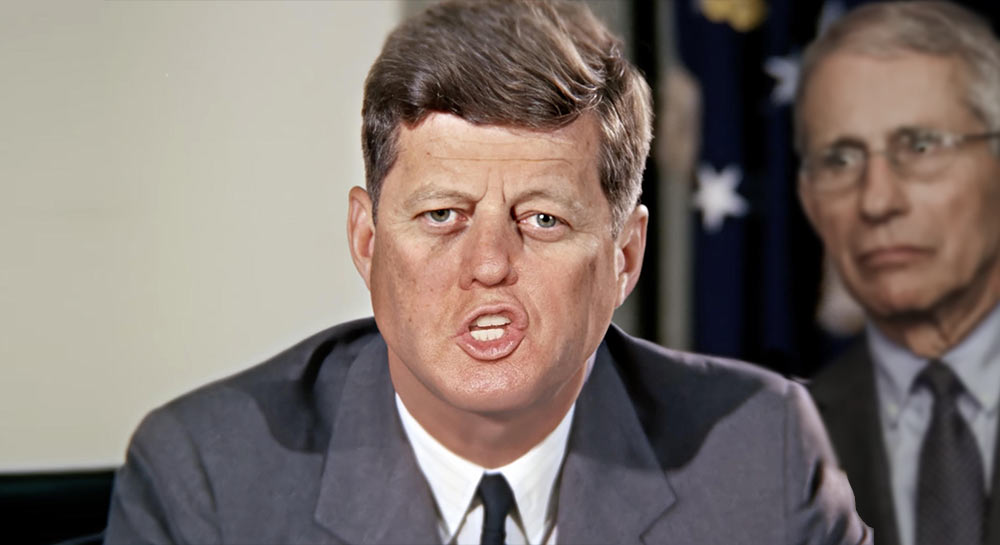 President John F. Kennedy addressed the nation Wednesday from the Oval Office, with the coronavirus spreading in the United States, markets plunging and amid criticism over how his administration is handling it. Here is the video with the transcript of the first three paragraphs.
My fellow Americans! Tonight, I want to speak with you about our nation's unprecedented response to the coronavirus outbreak that started in China and is now spreading throughout the world.

Today, the World Health Organization officially announced that this is a global pandemic. We have been in frequent contact with our allies and we are marshaling the full power of the federal government and the private sector to protect the American people. This is the most aggressive and comprehensive effort to confront a foreign virus in modern history.

I am confident that by counting and continuing to take these tough measures, we will significantly reduce the threat to our citizens and we will ultimately and expeditiously defeat this virus. From the beginning of time, nations and people have faced unforeseen challenges, including large scale and very dangerous health threats. This is the way it always was and always will be. It only matters how you respond and we are responding with great speed and professionalism.
At this point, before Snopes and Politifact once again debunk our site as fake news, let us state for the record that it's more than that. This is actually DEEPFAKE news, and we are the first site this side of the Pond to break it to you.
We have received this video directly from its Sweden-based creator:
My name is Per Cromwell and I'm a journalist myself, I wanted to see how real I could create fake news. Testing how realistic I could make JFK deliver Donald Trump's now famous Oval Office Covid-19 address from March. Recreating both JFKs face and voice proved to be a bit of a challenge. I had no previous experience in deepfakes, I just searched online for people able to help me, and after a few months I solved it. This is an experiment to better understand the possibilities and dangers with deepfakes, if anyone can start "ordering" them just like I did.

I did this as a part of a story for the new Austrian/Swedish Magazine The Free Lunch where we are trying to find out how far technology can be pushed and at what cost.

Kind regards from Sweden
Per
Thanks, Per! Whatever your original motivation for the experiment was, the result is quite noteworthy and can be interpreted in a dozen of ways depending on one's political leanings and pet peeves.
For example, to measure up historical figures with one another by switching their faces can be a useful exercise in civics, or a great tool for testing group biases.
You can have a progressive audience watch Obama's or Clinton's words delivered by Donald Trump - and enjoy the never ending stream of bile coming out of their mouths until you tell them who the original speaker was. Popcorn is optional.
This video may also help people without imagination ponder questions like, "Would the MSM be as critical of JFK if he were to deliver this address instead of Trump?" Or questions like, "Would the Washington Post link every other phrase in JFK's transcript to their own snide comments
the way they did it with Trump's
(if the technology existed back then), or would they instead praise the man's statesmanship and decisiveness?"
How would you use the deepfake technology if you were to have access to it?

Genosse Dummkopf

Ze Cherman test-case-1 would be, no doubt, Herr Hitler evocating, in his distinctive histrionic ecstasy, one of Merkel's "big-think" pompous-yet-(intentionally-)vague orations.
Next: Batyushka Stalin, benevolently teaching a trio of Yagoda + Yezhov + Beria, how to humanly treat their
zeks
fosterlings.
Next: Comrade Marx, at the toppest podium of 760 UN Plaza NYC, blurting out one of those planet-transforming exhortations of comrade Guterres.
Next: ... ( glorious Next Tuesday™, I get totally giddy from mind rushes! ) ...

jackalopelipsky

Reeducated Karaoke Hooliganisms would be all be 'real', not rememorex'