Red Square

A Cubist comrade sent me a link to this book for children and adults, wonderfully illustrated by the author himself, who is also an artist and an ex-Soviet immigrant:
[indentr]Sasha Zaichik has known the laws of the Soviet Young Pioneers since the age of six:
The Young Pioneer is devoted to Comrade Stalin, the Communist Party, and Communism.
A Young Pioneer is a reliable comrade and always acts according to conscience.
A Young Pioneer has a right to criticize shortcomings.
But now that it is finally time to join the Young Pioneers, the day Sasha has awaited for so long, everything seems to go awry. He breaks a classmate's glasses with a snowball. He accidentally damages a bust of Stalin in the school hallway. And worst of all, his father, the best Communist he knows, was arrested just last night.
This moving story of a ten-year-old boy's world shattering is masterful in its simplicity, powerful in its message, and heartbreaking in its plausibility.[/indentr]
So I took a bus to the nearest state-run Amazon store on the opposite side of town, waited in line for merely three hours, and bought an electronic version of the book for only five rubles and sixty seven kopecks.
Due to heroic efforts of our workers in the state-run book publishing industry, it was available in
hardcover
,
paperback
, and
Kindle
versions. Long live the Party, the State, and our glorious leaders who make such diversity possible for the toiling masses!
I anticipate a good read tonight, once all the neighbors in my communal apartment stop their usual evening cursing, fighting, and singing revolutionary songs.
I don't know if the author, Eugene Yelchin, reads the People's Cube, but I'll try to contact him about this mandatory activity.
Now, comrades, doesn't this picture remind you about one of our quiet evenings in the People's Cube Bunker, eating our beet rations and kollektively fantasizing about the Glorious World of Next Tuesday?

Comrade Stierlitz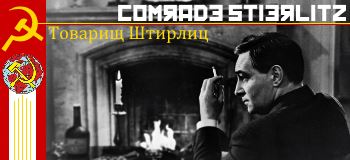 Yelchin's ALA Newbery Award video:



[OFF]

I've never heard of such an idea for a children's book. I might have to pick up a copy. It certainly is a change from all of the saccharine topics and plots for children's books that dominate the market.


Ivan the Stakhanovets

Red Square
He breaks a classmate's glasses with a snowball....
This sounds awfully familiar...

Comrade Stierlitz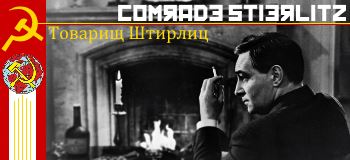 Ivan the Stakhanovets
Red Square

He breaks a classmate's glasses with a snowball....



This sounds awfully familiar...


No, no, no, that happened beccause of the Party's gypsy magic. He wanted a gun so badly, so that means he's a reich-wing crackpot, and the Party has placed a curse upon any and all reich-wing crackpots. Although, you have to admit that the Party could've done a little better. Or maybe they're just learning.

Pamalinsky

This sounds like a sweet read. Sweet in the sense of honest decency. Not saccharine. Sweetness we all need and yearn for. That picture you posted showing, to me, that pots and pans are just the same as actual humans in the background, moved me. The cover alone was quite evocative and moving.
Gonna buy and read.
Tell Eugene we support him! I do, and so do many others!