Olga Photoshopova

Burning Man and Woman
Original photo: Limitchik
Thirty years ago, the Burning Man festival started as a small gathering of artists, who were committed to sharing resources and pooling ideas, to create a week-long communal experience. The festival culminates in the burning of a large
man-shaped effigy
, created equally by all attendees. The "burn" is supposed to promote a cathartic release.
Over the years, outsiders got more and more curious, until Burning Man became the new
Coachella
: A place where rich celebrities
pay stylists
to dress them shabbily, while they muck it up with the average folks (who are kept outside a barricade, of course.)
Now, the 2016 Burning Man festival comes to a close, leaving in its wake a controversy of classism that has overshadowed the event.
Some repeat
festival-goers complain
that the entry fee has risen from "free" to $1,200 a ticket (although, a small selection of tickets are reserved for $190 under the
Low Income Ticket Program
.)
Other complaints about Burning Man 2016 are that celebrities hired helicopters, so they could swoop in and do the fun stuff like dancing and taking selfies, while paying staff to do the hard work - camp-building and clean-up. This allowed celebrities to avoid the unpleasantries of mingling with average people, or doing their fair share of labor.
This year, a celebrity camp called White Ocean was
raided and vandalized
. The protesters said that they were "taking Burning Man back from the parasite class." The rich have been accused of using their wealth to suck the sense of community out of the event. Even the camp's name, White Ocean, is not racially inclusive. There have been complaints that only
1.3% of festival-goers are of color
.
Some might say that the Burning Man microcosm is evidence that utopia
can't work in the real world
. In a mere 30 years, Burning Man has devolved into a huge argument, with vandalism and bordering on violence.
An idea has been floating around that, to take the event "back from the parasite class," it can be re-named to sound more inclusive. In a recent committee meeting, the name Burning Woman was proposed, and met with enthusiastic support.
Notepad of ideas scribbled down by Burning Man Renaming Committee member:
The reasoning presented was that, at least half the festival patrons are women. Women are less violent and less prone to ransacking camps, even though the camps that were ransacked were owned by the rich and they deserved it. The name "woman" also insinuates a sense of nurturing. This type of participation will be required from all attendees in the future, even those who bought $1,200 VIP tickets and flew in on helicopters.
On the way out of the renaming conference, The People's Cube overheard one committee member say, "I like that the word 'woman' is now part of the name, but why should a woman be 'burned'? This seems to promote violence against women."
We agree, but for now, the name stands as Burning Woman: A symbol of equality on the playa. Do not give up on the ideas of a shared utopia, fellow Burners. The festival will thrive, as long as the right people are in charge.

Comrade Putout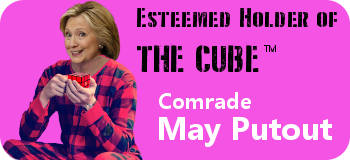 .




Olga

... in 2011 it was called Burning Squirrel and it was fun!


.


(I usually retain a little water around my tummy when I'm in the desert...)


.

Captain Craptek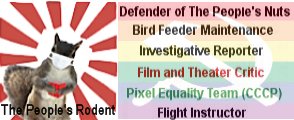 Tips for the bloated:
If you're experiencing water retention and bloating only in the stomach area it may be a result of gas. To prevent the problem, eat slower, chew food thoroughly, eat more frequent meals throughout the day and fart more often. Stop chewing gum and eating hard candies too! If you're still bloated, offer your neighbors the excess water and gas at or below your town's standard utility rates. They'll appreciate the savings.

Minitrue

Comrade Olga, the only rational reasons why this festival is degenerating to such a shameful display are, per Progressive Reasoning™:
The international money-Jews ™ are sabotaging.
It's been hacked by Trump Supporting KGB agents.
The participants are not yet re-educated enough and thus are not ready to bear the title 'new humans', so they still follow their degenerate capitalistic instincts
It's the Jews, did I mention that already.
Thank you comrade Olga for bringing this to our attention!

Kanyetyan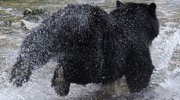 New Burning Woman date set for November!