Ivan Betinov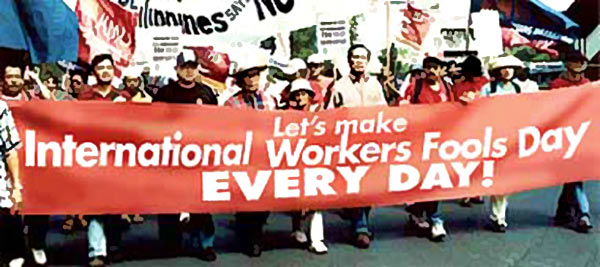 Comrades:
In the interest of accuracy and enlightenment, I put forward the modest proposal that we need to move All Fools' Day from its current location of April first to the far more appropriate date of May first.

Ivan the Stakhanovets

Other Comrade Ivan,

Your thoughtfulness (there's not much else you can do in that jar, is there?) is always noted and the concept is brilliant as usual!

I do have a point that I would like clarified, if we move it forward from April to May, do our calendars have to fall back in "Red" October?


Ivan Betinov

Nothing named "Red" can ever fall back! Forward, ever forward, Stalwart sons of the revolution! We must make more states red! Er...wait...let me rephrase that...


Ivan the Stakhanovets

Here's a concept...

All Fool's Day moves to Election Day!

Who could tell the difference? We just do it, declare victory, confiscate anything that can be eaten or distilled, and come home to the local beauties throwing themselves at our feet! I'm all for it.


Genosse Dummkopf

.
Wouldn't it be more equally progressive to fundamentally transform Fool's Day into simply a handful of Fool's Spans?

That would neatly subdivide the whole year into Spans, like :

[indentr]... Span>[Day-A]<Fool's Span>[Day-B]<Fool's Span>[Day-C] ...
... <Fool's Span>[Day-X]<Fool's Span>[Day-Y]<Fool's Span>[Day-Z]<Fool's ...

/ go one line up /

[/indentr]
With [ A, B, C ... X, Y, Z ] denoting, say :

[indentr]Mother's Day, Memorial Day, Father's Day ... Independence Day ...
... Veterans Day, Thanksgiving Day, Christmas Day .[/indentr]