Comrade Hasan

[center]
[/center][center]
Prostitutes doing their part for the Planet
Not as quite cheap as the politicians[/center]

Commissar_Elliott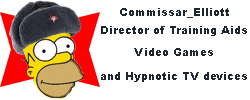 I give this my "Brilliant!" photo because we need more soldiers with the discovery of the
falsified information
hacker who illegally hacked our systems. In other words, we need more children to raise, and if the politicians who believe our
crap
Climatology ways get these womyn pregnent, why, there are just more believers in our Church of Climatology.
Lenin Ghost be praised for our ideals of free sex, both in money and without morals.

Public Disarmament Czar

This is no doubt a move to join political churches who are ringing their bells 350 times for Eco-Fascism
Global Warming
TM Climate Change TM. I applaud these selfless sex workers in their pledge to match with 350 BJs to the selfless politicians.
Now I'm off to counterfeit a Climate Summit badge and join the Selfless!

Colonel 7.62

I will be freezing the People's Clocks for 350 hours to Raise Awareness(TM) of Climate Change(TM). This will mean a much longer workday though.