Comrade Buffoon

Apologies comrades for my extended absence. The bacon fields of Siberia are a harsh mistress!
During my most recent 4 hour break between toil I ran across an image that should disturb and amuse all at once.
And it demands your input! Of course I'll start...
~
one more
your turn
aside: May Superkommisar Maksim rot in hell.

R.O.C.K. in the USSA

Welcome back from the bacon fields, Comrade Buffoon.
And may your boot always rest softly upon your head as you toil.

Comrade Whoopie

True equality can only be had in Mother Russia. Listen to these grateful African immigrants as they relate how generous and outgoing the Russian people have been toward them.




Sugar Daddy Bear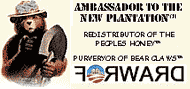 CAPTION: "This be too small to be eat'n if it ain't deep-fried!"


Neotrotsky


El Presidente


fleeceme