Aldebaran
Ok,
hot off the presses!
Is there a better way or place I can post this stuff? I am sure the obvious answer is to create a new thread...but it won't let my poor capitalist soul do that. And yes...still out of character. Have not yet thought of a good alais. However my great-grandfather was from Russia (in case that gives me any weight). I deserve 50 jolts in the car battery/bed spring rack!

Red Square

I watched American Gangster last night, with Denzel Washington. All was good except Denzel's character wasn't a violent, vicious, and illiterate thug - but a noble, non-threatening, charismatic Black leader who spoke of Martin Luther King Jr. and of social justice, inspiring hope and change. He fought for progress and diversity in the White-male-dominated criminal circles (who were almost as bad as the police) and distributed free turkeys for Christmas among the disadvantaged in Harlem. He defeated the racist Italian Mafia and made a mockery of the unjust system by smuggling heroin from Southeast Asia in the coffins of dead soldiers, which must be a metaphor for delivering hope and change we can all believe in.

HE LOOKED LIKE BARACK OBAMA!


Red Square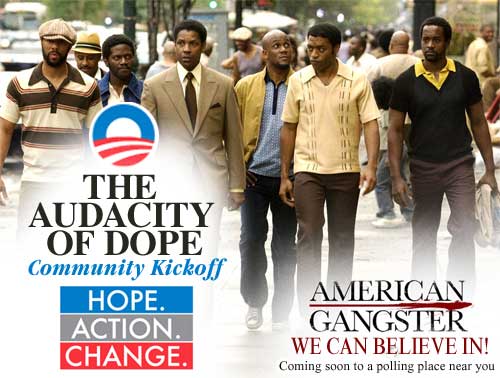 Aldebaran
In case some missed the story...
LINK >>

Zampolit Blokhayev

What an inspiring revolutionary
Che Guevara
was!!! All those people he slaughtered! *sigh* Those were the good ol'days!!!!!!!!
--
ZB

Premier Betty

I agree. Why can't we have revolutions anymore? Why can't we mercilessly kill all who oppose us openly and without fear of resistance? Why can't we have that here? Why must we go the long way and "elect" a socialist dictator. I personally believe that the revolution idea would be a lot quicker. And fun-er....


Rikalonius

How come it is that every agent for hope and change is surrounded by a gaggle blood-in-the-eye enforcers?

RIK


Premier Betty

What better enforcers are there?


Comrade Hasan

Red Square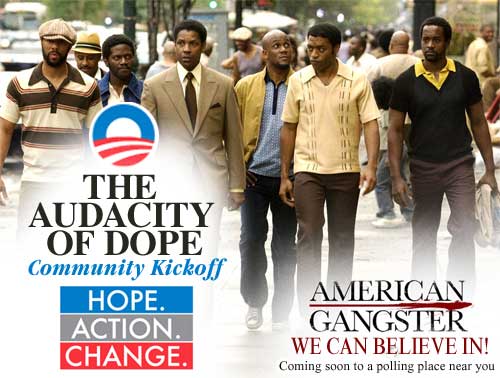 I've heard about this. It is called the Million Mobster March. Mobsters pushing for social justice, affirmative action, and domination of the water front.