Opiate of the People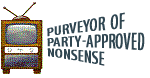 MSNBC
persents its
FIRST NON-COMEDY ORIGINAL SERIES!
CLARENCE DUPNIK, LAWPERSON!
starring ANDY GRIFFITH as Clarence

Here's a preview of the exciting first episode.....
SCENE: Early morning in Sheriff Clarence Dupnik's office. The Sheriff is having his daily cup of java and gross of donuts when in comes a deputy with some startling news!
DEPUTY FIFE: SHERIFF! THERE'S BEEN A SHOOTING DOWN AT THE TARGET PARKING LOT!
DUPNIK: Damn fools! If I told them once, I told them a thousand times to rename that g$#$m store! Violent images cause violence! Well, who's the victim? Anybody we care about?
DEPUTY FIFE: A judge, Judge Crater I think his name is.
DUPNIK: Judge Crater, huh? He was the guy who struck down that racist immigration law, wasn't he? This is probably some Nazis gettin' even with him for that.
DEPUTY FIFE: No, he's a municipal court judge. Traffic tickets and stuff.
DUPNIK: Hmmm. Violent anti-government parking scofflaws. Any suspects?
DEPUTY FIFE: We got the kid who did it. A real psycho. Claimed the judge sent elves to infiltrate his car stereo who made him drive around in circles until he promised to help free the ETs locked in Sean Penn's basement.
DUPNIK: So it IS politically motivated....
DEPUTY FIFE: Huh? No! Well, I dunno... Maybe. The kid had a lot of books in his trunk... Das Kapital, The Audacity of Hope, An Inconvenient Truth, stuff like that. He claims he was going to trade them to the ETs for Inter-galactic food stamps so he could use them when the New World Order banned eating. He supported himself with a sidewalk stand selling "I

Che Guevara" T-shirts.
DUPNIK: Probably a smokescreen. Anything else?
DEPUTY FIFE: He gave us a full confession.
DUPNIK: AHA! He's obviously protecting someone, he's being made a patsy for the real killers! Did you check the grassy knoll?
DEPUTY FIFE: There's no grassy knoll in the Target parking lot, Sheriff.
DUPNIK: Yeah, they probably dug it up before you got there to destroy the evidence.
DEPUTY FIFE: Do you want to talk to the kid before we book him?
DUPNIK: Don't be stupid. Get me a dozen boxes of donuts and a plane ticket to Alaska! Then book me some time on Morning Joe and Olberman! I'm going to expose the
real
criminals here!
DEPUTY FIFE: You talkin' about Otis the town drunk, Andy... I mean, Sheriff?
DUPNIK: No, nitwit, I mean the CLIMATE OF HATE FOSTERED BY SARAH PALIN, RUSH LIMBAUGH, GLEN BECK AND EVERYONE ELSE TRYING TO REPEAL THE OBAMACARE BILL! The TEA BAGGERS WHOSE WHINING ABOUT PUBLIC DEBT IS INTIMIDATING FINE PUBLIC SERVANTS INTO SPENDING TRILLIONS LESS THAN THEY WANT TO SPEND! THE PSYCHOTIC VOTERS WHO THINK PAYING THEIR LOUSY TAXES GIVES THEM THE RIGHT TO TELL THEIR LEADERS WHAT TO DO! THESE ARE THE
REAL
CRIMINALS, DEPUTY!
NOW DON'T JUST STAND THERE, GET ME THOSE DONUTS!!!!!

(Ominous music chords sound as we fade to black, er, dark gray.)

Comrade Whoopie

Dang funny stuff Opiate. BigFurHat should draw a cartoon strip to go with that.


General Confusion

Comrades,

This is a written video tape of actual events. Any cross reference to fumling, incompetent,
television actors and donuts is purely coincidental.

The really important thing to know is the sheriff is politically correct.


Opiate of the People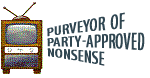 Comrade Whoopie, I agree the graphic novel format may be a better venue for such high-quality material although the world would certainly suffer for not having the benefit of seeing Andy Griffith's landmark portrayal of Sheriff Dupnik. And this entertainment giant is also available for parties and politicial propaganda, too!

Comrade Tooorisky, I'm afraid you are under the wrong impression. This material is totally fictional and is meant to portray what can happen if the forces of evil don't shut up and go away like we told her to and when people we don't like obtain power that is rightfully ours. Think of it as total bullshit a cautionary tale.


Grigori E.R.

For our younger Comrades:

The good Sheriff and Deputy at work solving a case-




I remember watching this episode when it was first aired on our 13 inch black and white TV.

Raum Emmanual Goldstein
Comrades!

I nominate SHERIFF CLARENCE DUPNIK for ATTORNEY GENERAL! Or at least we could have him replace Janet at DHS to free her for more important security roles.


Red Rooster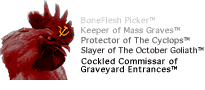 Like securing The Wombat Factory? Janyt come home!!!