R.O.C.K. in the USSA
Comrades, yet again the lives of our dear police officers - this time in Fort Worth, TX - were put at risk by a citizen clinging to his guns (and, most likely, his religion).
Late Citizen Jerry Wayne Waller, hearing a burglar alarm at the house across the street and apparently still believing in the quaint anachronisms of self responsibility, helping one's neighbor, and the 2nd Amendment,
was killed in his driveway
by five rapid (and expert) gunshots fired by Fort Worth police officers of the law.
When will this end, fellow travelers? When will these Americans figure out that only the police should have guns? And what was he doing having a gun outside on his own property, anyway???
Now these respectable police officers will need grief counseling (ammunition, as we all know, is hard to come by these days, and they lost five rounds! That can't help but make them grieve!). How are they to train properly on the police shooting range when ammunition gets extraneously used up in cases like this?

R.O.C.K. in the USSA
~ prog shot to hell ~

With the militarization of what were formerly "peace officers", whose duty was "to protect and serve", is it any wonder that there is now such an Us vs. Them mentality on the part of the police? Remember when they fired at a pickup truck with two women in it that wasn't even the same color as their fellow cop gone bad's pickup a few months ago in the L.A. area?

Good Lord. What's become of America?

~ prog reinstalled ~


Proletarian Robot

Comrade ROCK:


I am pleased to see "Law Enforcement INC's" brand of civilian targets (pictured below) that they have been manufacturing for government agencies to practice on are paying off. We all know that the right wing extremists with their guns have been rather nontraditional targets and it does take some fair amount of practice to quick draw on granny. We'll be starting our all out war on them soon enough but for now we must be content with the war of attrition on their numbers.







Kelly Ivanovna/келя ивановна
All I have to say is, thank Lenin that we have such a brave, sharpshooting police state!, er, I guess it's just still a police force. But next Tuesday is approaching, comrades!


yuri trotynov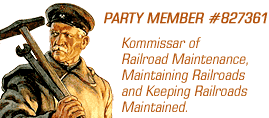 Comrade R.O.C.K.,
I suspect that the alarm was set off by some legitimate redistributionist and the police where just trying to allow him to do what is his right. Dear Leader probably should promote these two ideology enforcement agents for stopping this bitter clinger and doing The People's Work ™.


Fraulein Frankenfeinstein

I am thinking Homeland Security was involved to enforce the securing the homeland from homeowner.

"BAN GUNS BEFORE GOVERNMENT BANS PEOPLES!!" and"The Only Good Gun Owner Is A Dead Gun Owner" (bumper sticker will be available in the Peoples Latrine & Garden Shop a week from next Tuesday)


Anyer Marx

Comrade Robot, As I recall the protocol for encountering a person with a gun is to run away or throw things, so unless the officers are practicing their throwing, I do not think those targets would be used. The DHS would use this with their hollow point practice rounds: