Evil Smiley

The arrest of Jeffrey Epstein for criminal sexual acts involving children has gotten the Justice Department interested in reviewing flight logs for Epstein's private jet known as the 'Lolita Express'.
Epstein used this flying sex-den to ferry underage girls to his infamous 'Pedophile Island' where all sorts of unspeakable acts were engaged in by Epstein and his cronies.
The Clintons have gotten in front of this emerging scandal by declaring that they did not have sex with those girls.
The truth will still come out on this entire scandal, but of course until then, Google and the internet tech cabal have been busily scrubbing the Internet of all references that include the Clintons and Jeffrey Epstein and instead, replacing them with references to Trump and Epstein.
Soon, the Internet will be safe again, thanks to Google, Twitter and Reddit.

Red Square

Is the last picture a screenshot from Epstein's security video archive?


Red Square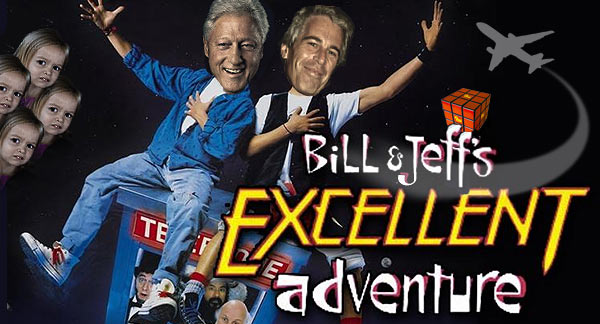 Bill & Jeff's Excellent Adventure

Evil Smiley


Evil Smiley

YouTube is hiding this video and pushing fake news to the top to protect Clinton.

Evil Smiley


Kommissar Uberdave


Kommissar Uberdave