Mikhail Lysenkomann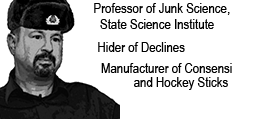 Comrades,
Imagine my surprise to see this while monitoring Faux "News" [spit] for acts of Denialism:
Rep. Levin aide arrested for allegedly beating boyfriend with shovel
Our beloved Commissarka has been moonlighting as a staffer -- disguised as a gay man -- for
Congresscritter
the People's Representative Sander Levin (D-Mich)!
But when it comes to
Thoughtcrime
, no one, not even Pinkie's lovers, are safe!
Pinkie, I applaud you for your extra hours of long, hard work with one of the most progressive members of the House, and for your clever disguise. Surely the world of Next Tuesday will be upon us that much sooner.
YOU GO, GIRL!

Ivan the Stakhanovets

I'm not sure whether to applaud or run "duck & cover" drills in the tractor barn...


Captain Craptek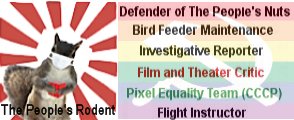 Comrade Levin is legendary for his cool prudence and sensitive selfishness along with quick perception of what is possible--these characteristics distinguish the adroit politician. (i.e., liar) A man of Levin's stature requires tough professionals directing his communications center. The shovel wielding Mr. Foster is just that sort of guy - always ready and able to beat-off an interloper.

[indentr]"Foster is listed on Levin's official website as the director of online communications at the Democratic congressman's Capitol Hill office."[/indentr]


Commissarka Pinkie

They say imitation is the sincerest form of flattery. Comrade Foster obviously aspires to care as much as I do.

But what about you, Comrade Lysenkomann? Seems to me the height, or more accurately, the depth of your ambition is to take after Ivan the Stakhanovets.

That being said, I do not lead a double life! I don't mind the suggestion that I might have a gay lover (not that there's anything wrong with that), since that's certain to get me a phone call from Obama, an audience with the Pope, and a chance to appear on HGTV's House Hunters International as we head for the beaches of sunny Mexico!

But how dare you suggest that I would masquerade as a member of the opposite sex when it's not only damned near impossible for anyone to do that anymore, but it's totally insensitive to the transgender community. To pretend such a thing is to make fun of them! It's to say to any or all of them, "I don't think you're worth being for real! I think you're all just a bunch of phony attention whores!" Can't you see how hurtful that is? How easily it would drive them to suicide? How much it makes me look and sound like Donald Trump or Ben Carson?

If you believe I do anything double, Comrade Lysenkomann, then perhaps you won't object to double-whacks from my shovel.

WHACK!!! WHACK!!!

Double life, indeed! If that were the case, then don't you think I'd be voting more than once in every election, and receiving twice as much free stuff from the government, and...and...oh, never mind all that now. The important thing is I care at least twice as you do!


Captain Craptek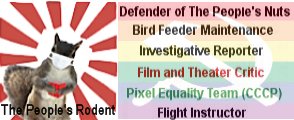 May I add -- I totally agree with everything the Commissarka just said. ((or, has ever said on this (or any other) issue.))


Pamalinsky

Commissarka Pinkie,

; • ) Nicely played.


Commissar Obamissar V

You were one I missed most during my Cube hiatus, Pinkie...


Mikhail Lysenkomann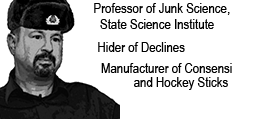 I'm no psychologist... my expertise is Climate Science... but I have to wonder why Pinkie got so defensive. I must have hit a nerve there...

<putting on my American-made hard hat>