Krasnodar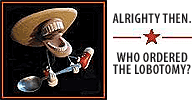 STAY WARM

AND

GREEN THIS WINTER !
The Party's Solution for the
Collective Need......................
We've got you covered.

jackalopelipsky

Krasnodor, you had 'pelipsky at that "and" part.

YOU MAKE NEO-FEUDALISM LOOK GOOD!!!


RedDiaperette

But where will all this lovely compost come from if we begin to eat synthetic meats instead of meat-on-the-hoof, as Commissar Bill Gates has instructed us to do? And will we also be required to eat synthetic vegetation as well, once all Commissar Gates's amassed nationwide farmland is turned into wind and solar farmland? These are indeed exciting times as we await our instructions.


jackalopelipsky

Yes indeedy, RD.

Exciting times!!!

y'know, yesterday, it just flew through the mythological horned rodent's mind --- that if AOC didn't have this GreenDealtDeal gig wokin' for her...she'd be an unemployed cocktail mixer in Cuomo's New York.

Just wokin' for the mortgage like the rest of us.