che.mao.joe
Brothers in Arms,
This just in from the Alarmist Propoganda Desk of Babs Boxer, our Formaldehyde-Soaked Hippie Sister from the Red State of California: Climate Change will be the leading cause of conflict that will put our troops in harms way over the next 20 years. Never since writing and printing the New York Post in my own commune-issued collective basement has such an admirable stretch from the truth been made in the history of man.
Party members, it is a shining moment in progressive thinking when the answer to every possible issue in the world is "climate change". It fits in perfectly with the frienzied and hysterical apocalyptic hype that is needed to deflect the fact that historically, the cause of conflicts are deeply rooted in human rights abuses, oppressive and corrupt governments and horrific and deeply insane relegious beliefs.
~
Given the fact that all of these glorious elements are on the uprise in recent years, and that our centrally planned and impossibly inept governments are responsible for said elements, its unlikely that clmate change would add to the fever pitch of future conflict. However, for the collective to prosper, it is imperative that we conceal the fact the environment is not the root cause of conflict but rather how HUMANS respond to their environment that causes the conflict when fighting over government squandered resources and piss poor government response to natural disasters.
If it were not so potentially profitable, I would manufacture (union labor only) and sell (only at cooperatives) Babbling Boxer dolls that would chirp "climate change" from her wrinkled lipstick-stained kisser everytime I whack her head against a solid surface. We could dub her the official Party Spokes Sheeple and prop her up at press conferences against a backdrop of fake crowds with sporadic shots of military parades to impress.
We need useful idiots like Babs to make sure that people (especially governments) are not held responsible for their actions.
-------------------
NOTE FROM RED SQUARE:
I took the liberty to illustrate this post with some visual aids above and below.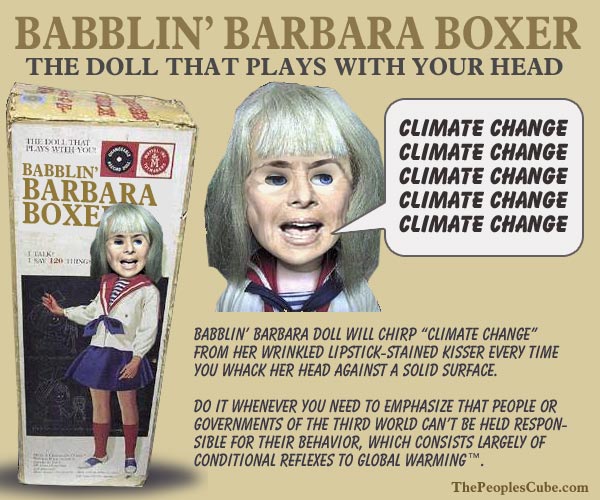 Jíbaro

Comrade Boxer as always, preaching to the choir of hippies.


But, does she realize that Californians are now up in arms over the Mexican invasion?


Even

Stalin

, may

he

rot in the grave, knew how to unite the ЯODINA during the Great Patriotic War.


If Comrade Boxer is the best that Amerikan Bolsheviks can muster, our cause is doomed.


ThePeoplesComrade

che.mao.joe
We need useful idiots like Babs to make sure that people (especially governments) are not held responsible for their actions.
I would not argue with your premise but I detect an unwarranted desperation in your logic.
Progressives = Equality For Mankind
Capitalists = Selfish Independence
Negative results stemming from Progressive endeavors are the result of Capitalist interference. Quests for Equality can not, in and of themselves, produce negativity due to the purity of goals.
Positive results stemming from Capitalist endeavors are the result of coincidence. Quests for Self Aggrandizement can not, in and of themselves, produce positivity due to the corruptness of goals.
In an Acorn nutshell, results are never significant and are at best deceptive. One must always judge any outcome by its underlying philosophy. Therefore our sacrosanct motto:

che.mao.joe
Oh Comrades!
It brings me much commie joy to see your patriotic contribution to the
Global Warming
Climate Change Agenda. I read all of your propoganda and korrect thinking while filling myself with chilled homemade Borscht Moskovskaya for lunch today. The soup, made from spatterings of rotted beet and carrot leftovers, was made so much sweeter by reading your progressive comments to my post.
A Censorship Award to Red Square for his always incredable artistic, yet somewhat disturbing ability to conceptualize and market Babblin Boxer Doll as well as change the post by-line. This is why you, great comrade, are the omnipresent all knowing and seeing collective of thought and print control. It's as though you know my every thought!
The doll is perfectly detailed from her formaldehyde pickeled pale skin to her creepy far away distant gaze. But tell me Red Square, is that a Color 5507V Sony Super HAD CCDII WDR Pinhole Camera with 32X Digital Zoom I see lurking from the pupils of Babs Eyes? Glory Red Square, you think of everything! If I were a capitalist pig I would sue you for stealing my thought crimes. However, I know any shameful profit realized from our collective doll will be for the greater good of the People's Cube motherland.
Comrade Jibro, Babblin Boxer is fully aware that illegal immigrants overloading the Republic of California is just what the rationed doctor ordered. They fit perfectly into the unwashed and ignorant masses needed to support and further our cause in the largest electoral college vote-laiden state within the selfish capitalist stink hole.
Comrade The Peoples Comrade, to further your hypothesis, you are well intentioned in your contribution which is admirable, however, I detect a level of intelligence that places you in a very dangerous position if you continue to show individuality and intellectual superiority that borders on violation of societal Jante Laws:
Don't think that you are special.
Don't think that you are of the same standing as others.
Don't think that you are smarter than others.
Don't fancy yourself as being better than others.
Don't think that you know more than others.
Don't think that you are more important than others.
Don't think that you are good at anything.
Don't laugh at others.
Don't think that any one of us cares about you.
Don't think that you can teach others anything.

che.mao.joe
Oh Yes...Red Square..while you are busy in your art work studio could you fashion a sign as such for the collective:

"When despot leaders of third world countries start taking care of their own people you can feel free to ask me for a charitable donation."

I would like such a sign to be proudly displayed on my front door for those irritating disturbances on sacred weekends when fellow commies think its ok to pimp me for giving to resource-rich countires who have naked babies with bloated bellies. My weekends are off limits not as I believe in worship of false gods, but working for the greater good all week while watching 60% of it going to help equalize us all can be exhausting quite frankly. I need two whole undisturbed days to recover from the depression of analyzing the numbers on my pay stub while trying to figure who the hell are all these entities I am already giving charity to.

All proceeds of any shameful profit will be donated to the Peoples Cube.