Sugar Daddy Bear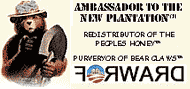 COMRADES
By now you are all quite aware of the
modus operandi
of the Rethuglikkkans, and their eeevil plans to crush our glorious Progressive World Of Next Tuesday™—
this is what Rethuglikkkans do.
They start wars so their rich compatriots in the Oil Business™, and the Military Industrial Complex™ can reap huge profits, all the while laughing in their tailored Armani suits puffing away on Cuban cigars while they set sail on their 100ft yachts, or fly away to Rio on their private Leer jets.
This is what Rethuglikkkans do.
But nothing could be more insidious, more dastardly, more horrifying than their latest War Machine™ creation: The "Tea Party". We have witnessed these past few weeks some of the devastation and mayhem this small group of "terrorists" can wage. Just as the Frankenstein monster terrorized surrounding villages, so does the "Tea Party", ravaging and pillaging Dem0crat senators and congresspersons innocently trying to maintain our socialist status quo and spending spree.
Frightened and terrified are those made-victims of our society... the "downtrodden™", the "helpless™", the "homeless and disheveled™", the "children™"... who gave up on an honest day's work for a decent wage because the promise of Hope 'n Change™ opened up a new way of life for them. A life of simplicity where hopes and dreams are homogenized and condensed down to simple basic needs. These poor souls are the very targets of the "Tea Party" people. The relentless Zombies within our midst.
But how did this War Machine™ come to be? It is believed that the idea was a mere passing comment simply made by an inebriated guest attending one of "Darth™" Cheney's typical "rave" parties in his secret underground Haliburton™ bunker. The phantasmagoric comment somehow morphed into the crystallization of an experiment thus giving [certifiable] birth to the Frankenstein monster known as the "Tea Party".
Fortunately for us, comrades, we have those rare individuals among us who deign to tell us the truth. These singular watchdogs of the People who are ever-vigilant to warn us of the dangers, and explain eeevil intent to us succinctly and clearly. One of those comrades is "dick" Turbin (Communist-Ill.)
Recently, Mr. Turbin was being interviewed by one of our agitprop associates on a television show of no importance.
In no uncertain terms, and with the full integrity of truth on his side, Mr. Turbin began: [...]"
going to point the finger at my Republican colleagues for a moment
." He went on to say "
Many of them have said they like war. They like waging war. They like the notion of staying in war. They think we should spend a lot of money in war.""
Turbin said that when President Obama needed to borrow money to support wartime expenditures, Republicans then said
"No way. I'm just for war when I don't have to vote for the debt ceiling."
The agitprop associate said:
"To be fair, though, I don't think anyone would say, 'I like war.' Do you mean that metaphorically?"
"Metaphorically,"
Turbin answered.
"They like the notion that we would engage our troops in combat to assert America's position in the world."
Comrades, we always
knew
this has been the heart and soul of Rethuglikkkans. But there are those times we need clarity to support our deepest suspicions. Mr. Turbin is that prophet; that Man Of The People; the light that shines in our moment of need.
"We live in a world of violent images and violent words, but those of us in public life and the journalists who cover us, should be thoughtful in response to this and try to bring down the rhetoric, which I'm afraid has become pervasive in our discussion of political issues. The phrase 'don't retreat, reload' – putting crosshairs on congressional districts as targets – these sorts of things I think invite the kind of toxic rhetoric that can lead unstable people to believe this is an acceptable response."
-"dick" Turbin, Joe "nescient" Nocera, Maureen "dowdy" Dowd, Sheila "jack-stoned" Lee, Chuck U. Schumer, Alan Graystoned, Chris "fritz" Matthews, Rachel Maddcow, Ed Scheiße, Dingy Harry Reid, Nanski Peloski, Jimmyboy Clyburn, and Bobbit Brady.


Let us never forget these inspiring words echoed by the progressive masses as we Lean Forward™ into the Progressive World Of Next Tuesday™!

El Presidente

Raum Emmanual Goldstein