Dimitri Kissov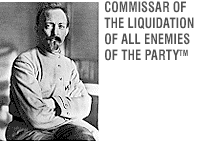 My Dear Comrades,
For so many months we have heard the calls of 'Black Lives Matter', 'All Lives Matter' and 'Blue Lives Matter' etc etc. I have, after studying extensively the works of our prophets Marx, Lenin, Stalin, Mao and Pol Pot, found that in actuality 'No Lives Matter'.
You may think this rash, but why would we stop revolutionary progress over some insignificant life? Isn't the Party and Progress to the Glorious World of Next Tuesday more important?
Anyone who wouldn't eliminate anyone or anything, even their own friends and relatives on orders of the Party, blocking the inevitable march of Progress will be handled appropriately.
Let me be perfectly clear, any Party members shirking their responsibilities vis a vis the Party declaration will be dealt with in the most harshest measures. Any deviation from the Party line will be seen and handled with Comrades, if you get my drift! (Hat tip Comrade Beria)
As Always, You Humble Liquidator!
Dimitri!

Colonel Obyezyana

Thank you, Comrade Sherlock. Your enthusiasm has won you extra shifts at the beet harvest. Dress warmly and pack a few extra shovels (we're rounding up your family, pets, friends, neighbors, teachers and optician to help you).

Comrade Jenkem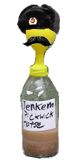 They are the most equal People's Mass Graves. The most equal of all The People's Places.


Cradle to Grave Marxist

Yuri Bezmenov
[T]he useful idiots, the leftists who are idealistically believing in the beauty of the Soviet socialist or Communist or whatever system, when they get disillusioned, they become the worst enemies. That's why my KGB instructors specifically made the point: never bother with leftists. Forget about these political prostitutes. Aim higher. [...] They serve a purpose only at the stage of destabilization of a nation. For example, your leftists in the United States: all these professors and all these beautiful civil rights defenders. They are instrumental in the process of the subversion only to destabilize a nation. When their job is completed, they are not needed any more. They know too much. Some of them, when they get disillusioned, when they see that Marxist-Leninists come to power—obviously they get offended—they think that they will come to power. That will never happen, of course. They will be lined up against the wall and shot.

Minitrue

Thank your for that quote, comrade Cradle. I've often wondered who would be the first to go to gulag when Next Tuesday arrives, and I can't help but think most true believers in the Glorious Cause of E-quitty will be among them.