Komradkomrad
Update by Red Square: this was actually written by Iowa Hawk and posted on his site on Nov. 20 under the title LEMON.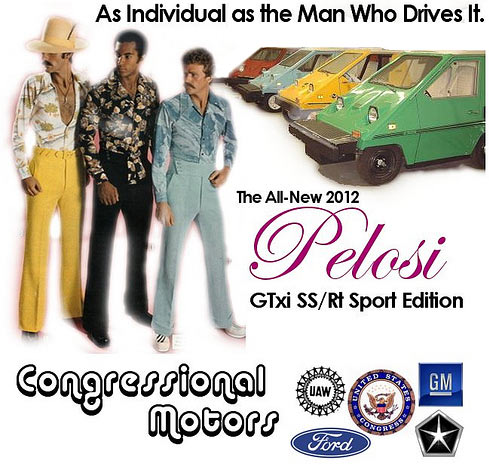 It's in the way you dress. The way you boogie down. The way you sign your unemployment check. You're a man who likes to do things your own way. And on those special Saturdays when driving is permitted, you want it in your car. It's that special feeling of a zero-emissions wind at your back and a road ahead meandering with possibilities. The kind of feeling you get behind the wheel of the Pelosi GTxi SS/Rt Sport Edition from Congressional Motors.
All new for 2012, the Pelosi GTxi SS/Rt Sport Edition is the mandatory American car so advanced it took $100 billion and an entire Congress to design it. We started with the same reliable 7-way hybrid ethanol-biodeisel-electric-clean coal-wind-solar-pedal power plant behind the base model Pelosi, but packed it with extra oomph and the sassy styling pizazz that tells the world that 1974 Detroit is back again -- with a vengeance.
~
We've subsidized the features you want and taxed away the rest. With its advanced Al Gore-designed V-3 under the hood pumping out 22.5 thumping, carbon-neutral ponies of Detroit muscle, you'll never be late for the Disco or the Day Labor Shelter. Engage the pedal drive or strap on the optional jumbo mizzenmast, and the GTxi SS/Rt Sport Edition easily exceeds 2016 CAFE mileage standards. At an estimated 68 MPG, that's a savings of nearly $18.00 per month in fuel cost over the 2011 Pelosi.
Even with increased performance we didn't skimp on safety. With 11-point passenger racing harnesses, 15-way airbags, and mandatory hockey helmet, you'll have the security knowing that you could survive a 45 MPH collision even if the GTxi SS/Rt were capable of that kind of illegal speed.
But the changes don't stop there. Sporty mag-style aluminum-foil hubcaps and an all-new aggressive wedge shape designed by CM's Chief Stylist Harry Reid slices through the wind like an omnibus spending bill. It even features an airtight undercarriage to keep you and a passenger afloat up to 15 minutes when in puddles -- even in the choppy waters of a Cape Cod inlet. Available in a rainbow of bright color choices to match any wardrobe, from Mexican Avocado to French Mustard.
Inside, a luxurious Navy-boat gray, all-velour Barney Frank designed interior features thoughtful appointments. like dashboard condom and baby oil dispenser and detachable vibrating shift knob.
A special high capacity hatchback holds up to 300 aluminum cans, meaning fewer trips to the redemption center. And the standard 3 speaker Fairness ActoPhonic FM low-band sound system bellows the latest hits from the NPR when you insert your government-issued instant tax credit card.
Best of all, the Pelosi GTxi SS/Rt is made right here in the U.S.A. by fully card-checked unionized workers and Detroit 's famous visionary jet-set managers. Even if you don't own one, you can enjoy the patriotic satisfaction knowing you're supporting extravagant wages, enormous benefits, private jets, and lavish political donations that once again make the American car industry the envy (laughing-stock) of the world.
But why not buy one anyway? With an MSRP starting at only $62,999.99, it's affordable too. Don't forget to ask about dealer incentives, rebates, tax credits, and wealth redistribution plans for customers from dozens of qualifying special interest groups. Plus easy-pay financing programs from Fanny Mae.
So take the bus to your local CM dealer today and find out why the Pelosi GTxi SS/Rt Sport Edition is the only car endorsed by President Barack Obama. One test drive will convince you that you'd choose it over the import brands. Even if they were still legal.
~~

Che Gourmet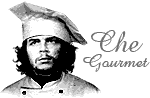 Thank you KomradeKomrade,
Is there only
one
model available, or perhaps a utility vehicle with the same features? The P
H
K's van needs to see the great People's Recycling Center, and there is a great need for a replacement. Comrade L.Red Star loaned us a tank, but I worry about the
gas
ethanol used to run it is not justified. Let me know when you have a dealership set to go. And I'd make sure that you do that
quickly
comrade, before the Chairman gets his thieving hands on your good fortune. I'd be happy to take a free test drive if you're offering free stuff?
glad I have my horse to ride,
Che' Gourmet
<QUOTE>
Don't believe a word from Bill Ford. After taking the helm in the 90s, Bill Ford stated one of Ford's goal is becoming an environmentally conscious company, ie manufacture "green" vehicles. What he didn't tell back then was his secret plan to emphasize monster SUV and bigger pickup trucks with gas guzzler dirty engines. His sins against the environment: Excursion, Expedition, Explorer, F250, F350, F450. Because of Bill Ford's transgression, Ford Motor is suffering in the current misery. Had Bill Ford kept his word, Ford would have beaten Toyota and Honda in building a mass produced hybrid. Born with a golden spoon in his mouth, Bill Ford knows nothing about the auto business let alone having any plausible vision of where Ford Motor should be headed. In his younger days, Bill Ford cleverly concluded he was entitled to hold a Ford corporate office. His dad told him he needs to work in the Ford auto part warehouse. Many years ago in a shareholders meeting, he even foolishly demanded a management position within Ford Motor Corporation. Fortunately, his no-nonsense dad intervened scold him and told him to shut-up and sit-down. Today, more than ever, Bill Ford needs to remember his dad's sound advice. Hey....he's only advocating a new gas tax. What's the fuss?

Red Square

Update: this was actually written by Iowa Hawk and posted on his site on Nov. 20 under the title
LEMON
.
To all comrades: we realize that all things belong to the People(tm), but we haven't reached the Progressive World of Next Tuesday yet, when everything you can think of becomes mine automatically. Until then, if you copy-paste anything from other sites, please include the name of the author or at least a link to the source.
At ease.

Che Gourmet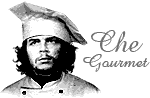 To Glorious Leader,
Many pardons, Sir! I will duly note that I should name source of quotes in future.
Over and running out of here, for now, (...
whew......that was too close...I wasn't plagerizing....no......just fact-finding.......yes....for the Common Good.....)
Che' Gourmet

Red Square

It wasn't your post I was referring to, Ms. Che.


Che Gourmet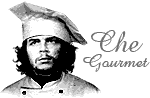 OK Dear Leader, but I will still note for future imported quotes, Si?