Zampolit Blokhayev

Comrades,

I know I have not posted much as of late. Virginia's Politburo skulduggery just before the election has kept me busy. I had to have 2, now former, Politburo members arrested and deported to the Amerikan Sibieria.

Now, I must denounce one more member of Virginia's Politburo. Terry McAuliffe. This morning, agents from the Virginia Democratic Party's security service, the NKVA, arrested Comrade McAwfull at his dacha in Fairfax County, VA. Of course, he was allowed to pack warm clothes and a shovel. Where he is going he will need them.

We do not tolerate failure. Especially when you lose an election that the media and the party had rigged in your favor. How do you do that?

Fear not, comrades. The VA Politburo will work tirelessly the next 4 years to topple these evil, counter-revolutionary, troglodytes that have hijacked the People's Soviet of Virginia!

Boris Sukavich Blokhayev, Zampolit for the DNC, OO HSL
Director, 1st Chief Directorate for Tactical Smear Operations
Grand Inquisitor, First Reformed Church of Latter-Day Climatology


Kapitan Kangaroo Kourt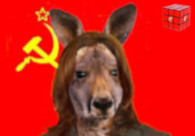 Zampolit Blokhayev
Comrades,Of course, he was allowed to pack warm clothes and a shovel. Where he is going he will need them.

We do not tolerate failure. Especially when you lose an election that the media and the party had rigged in your favor. How do you do that?

I heard a report that he was shipped off to Florida for processing. His warm clothes and shovel will teach him well what failure feels like.