Dr. W. S. Palimpsest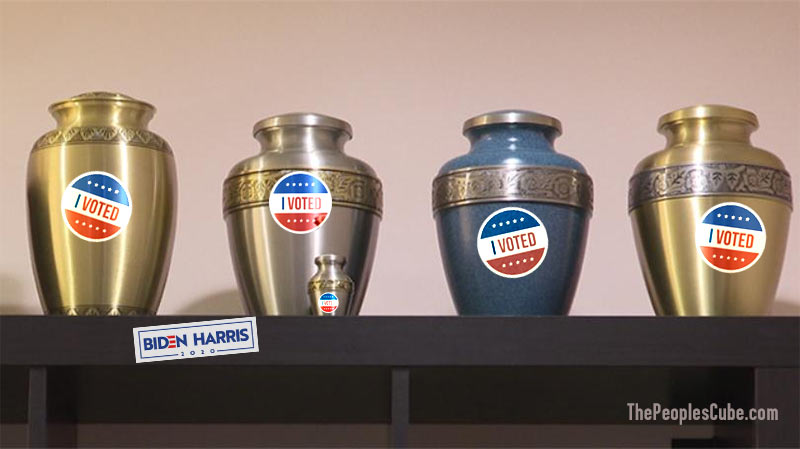 For too long the ashes of the dearly departed have been discriminated against come election time! But this will no longer be the case. Rejoice, comrades, because the Deputy Minister of the People's Cemeteries, Mausoleums, and Crematoria has just informed me that our progressive scientists, working in top-secret Necrolabs, have perfected a way to extend the franchise to our cremated constituency.
Today, the Party has deployed an elite unit of ultra-lifelike necroproxies exclusively tasked with the responsibility of transporting the urns of our cremated comrades to polling stations in heavy Republikkkan districts.
Let's hear it for the Brigade of Ultra-Lifelike Necroproxies for Urn Conveyance, or the BULNUC!
Early reports indicate that nearly 32,000 cremated voters have already cast their ballots in swing states.

Chairman M. S. Punchenko

Praise Lenin! Let every vote count! EVERY VOTE! I am getting reports that the Literary Characters for Change are moblizing their base to vote Democrat. I even had the chance to meet Captain Nemo at my polling station.


Red Square

Chairman Meow S. Pun
I even had the chance to meet Captain Nemo at my polling station.
That was a campaign we wanted to start a while ago - to fight the disenfranchisement of fictional characters. They are more alive in our psyche than many of the "real" people we know. How would Robin Hood vote? Redistribution, anyone? How would Hunchback of Notre Dame vote if he only knew that a shot of embryonic stem cells into his hump would turn him into a Lothario! Speaking of Lothario, how would he vote on values, along with Casanova, Don Juan, Prince Charming, and Romeo? Fast forward to modern days: how would Erin Brockovich vote, and a legion of characters created by the Sheens, Douglas, Baldwin, Clooney, Redford, Streisand, and the rest of the Honored People's Actors and Heroes of Socialist Labor?
I'm not even touching the cartoon characters yet. Let alone comic strips.

Dr. W. S. Palimpsest

Along those same lines, we might also ask: How would the likes of Darth Vader, Scrooge, Morgan Le Fey, Daddy Warbucks, Mephistopheles, Howard Roark, and Professor Moriarty vote?  

The answer is clear: incorrectly.


Premier Betty

Vader would vote for the Emperor, at least until he killed him. Maybe we could use him in a kind of Mafia-like extortion racket. Vote demokrat, or get light sabered!


Chairman M. S. Punchenko

Comrade Premier,

I took your suggestion into much consideration "Vote Democrat, or get light sabered". It's gold! That slogan will play VERY well in San-Francisco and parts of Miami.


Red Square

For those of us considering how we can keep voting Democrat in the afterlife, cremation has become an increasingly popular option. In fact, a recentr study by the Cremation Association of North America (CANA) indicated that 100% of cremated Americans are at least "somewhat likely" to keep voting for Democratic candidates in national and local elections.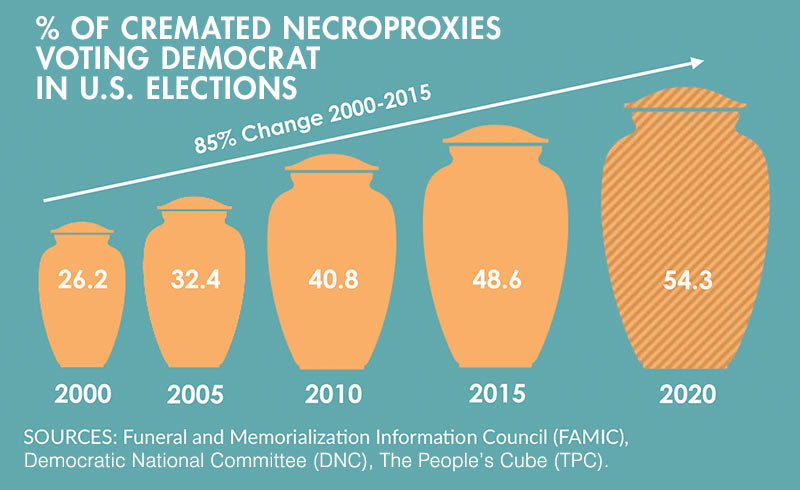 jackalopelipsky

Most sublime Red Square, does this not explain Gov. Cuomo and the whole nursing home CoVid death numbers? Sure, Cuomo is responsible for the death of some voter's parent-in-laws, but getting those necroproxie voters registered and under control was job one.

forelock tugging before making this additional and unverifiable assertion,
Jackalopelipsky