Raum Emmanual Goldstein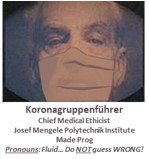 Ivan the Stakhanovets

I do hope that after reading the article in the link my computer is not bombarded by a bunch of pop-up ads that I'm going to have to attempt to explain to my wife...
the Cube ™ abides...

Panem Et Circenses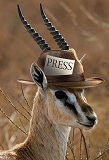 Parody? I don't see any...?As a journalist, I am deeply inspired by the linked article's unbiased reporting.
They subscribe to the same journalistic standards I do: phrases like "Caitlyn Jenner's deeply unpopular opinions..." and "Silverman is correct in noting that the much-reviled trans sports bans are backed by no real-world evidence..." show how they are only interested in presenting the facts and truth at PinkNews.

One thing I did notice though: the question "Why don't you just have co-ed sports divided by weight and height, you know?" might be slightly misinformed. Some sports come to mind that actually are - just one or two, though: weight lifting, lightweight rowing, horse racing (jockeys), sprint football, boxing, kickboxing, mixed martial arts, wrestling, ... and there might be a few others that are divided by age groups because of size / maturity / coordination differences: um, all sports.

But that is a small thing in an otherwise outstanding, fair article about the anti-trans bigotry of a prominent trans person. Would anyone here mind being a reference for me? I'm applying to write articles at PinkNews.


jackalopelipsky

Ivan?? Worried about 'the wife' poppin' your ads? What is this pre-PanSanity unreconstructed thought? It's comrades like you holding on to traditional sanity as if real America is to remain some kind of "father knows best" family values nation.

Sanity is a confine The Party™ has tested, but found lacking for future generations to build upon.
Everything is PanSanity these days.

When we all live in the vast expanse surrounding sanity, then Amerikkka will be truly cured.

Sort of like Texas Democrats being vaccinated super spreaders in D.C. See, total PanSanity ---it's like a new Manifest Destiny for the Nation, to bring government housing projects and infrastructure, probably fluoridated water, too, to the the uncivilized regions surrounding sanity.

PanSanity homestead acreage is selling out fast in newsrooms and duly elected legislator's minds panning the nation.