TheFineReport.com

"Dis is about educational justice! Dis is our Arab Spring – only without dem Arabs! We is in a time nationally where our students – black and dem brown students (including dem white brown students) – are under da pressure of dem privatizers who want to collect off dat pathology dat plagues our communities. Dat's what's going on here…

"If anybody out dere understands wut I just said, I'd appreciate if dey explain it me, cause even though I said it, I don't know what it means. Though I think I know what 'privatizer' means: it's dat spray in da bathroom dat gets rid of dem unsightly odors. (And dat Arab Spring ain't a bad soap, neither.)"

R.O.C.K. in the USSA
The Reverend is obviously confused.
It's not a soap.
Although expanding the product line isn't a bad idea.

Sugar Daddy Bear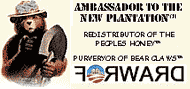 Comrade ROCK,

Rev Al can't be considered "confused". He's a walking, talking example of what it is he's in support of and a living example of how the Chitcago Skool Sistem can benefit and edumakate ALL stoodents of ALL culors, so they can be just like him YO!

And it's not "Arab"; it's "AYE- RAB".


General Confusion

Signs from Chicago Teachers strike…
"We is knot wirkin" and "Kidz is ignorance",
"Us tichers is onionized".