Chairman M. S. Punchenko

Pure douche-baggery...
Kos

Break their back, crush their spirits

by kos Thu Oct 09, 2008 at 11:14:58 AM PDT

See, here's the deal -- we're going to win the White House, we're going to win big in the Senate, and we're going to rack up big gains in the House. Republicans know this and are preparing for the worst. Now think of 2004 -- we really thought Kerry was going to pull it off. Remember that? And remember how utterly devastated we were when Bush pulled it off? The pain was so much worse because we expected to win.
So with conservatives bracing for the worse, they won't experience the kind of pain we did. Not unless we deliver a defeat even worse than their worst nightmares. And I'll be honest with you -- I want them to hurt as much as we did. I want their spirits crushed, their backs broken.

So the way we do that is we deliver a defeat worse than they ever imagined. We do that by winning states that have no business turning Blue -- like North Carolina, Georgia, Indiana, and so on -- states that were easy Bush victories in 2004. We do that by electing a 60-seat supermajority in the Senate. We do that by defeating their leadership, like Mitch McConnell in the Senate. We do that by defeating their heroes, like wingnut go-to hero John Shadegg. We do that by making sure a record number of Americans reject conservative ideology, leaving it utterly discredited.

The day after the election, I want to see an electoral battlefield littered with defeated Republicans, their ranks demoralized, their treasury in heavy debt, and no real leadership to take the helm. I want a vacuum so complete, that a bloody leadership battle between the neocons, theocons, and corporate cons shakes the GOP to its core, and leaves it fractured and ill-equipped to stymie the progressive agenda, much less ramp up for an even bleaker (for them) 2010.

Guys, that's why I don't worry about complacency. We're not out to win this thing. We're out to crush them. And that's going to require a level of engagement beyond anything you've ever done before. It'll mean more phone banking, more canvassing, more donating. Work on this site keeps me from working the phones or walking precincts (my wife has helped out on those fronts), but I've surrendered a significant portion of my income, way more than my family can really afford, on behalf of the cause. We've all got something to offer, whether it's time or money, and now's the time to offer what we can.

One of my favorite cyclists likes to say, "Leave everything on the road", meaning that when he crosses the finish line, he will have burned every last ounce of energy in his body. If he falls short? No regrets because he gave it his all, every last bit of it.

We can't have regrets on Election Night, thinking that some Democrats came up short because we failed to leave everything on the road. We can't have a Jim Martin or a Bob Lord or a Darcy Burner or whoever come inches from victory, knowing that maybe we could've done just a little bit more to help them cross the finish line victorious. Even if all you can give is $5 to one candidate, or one afternoon phone banking, it still matters. There's a lot of us, and a lot of little gestures adds up to a whole lot of action.
What a douche bag. Looks like I won't need the nose plugs after all. Thanks, Kos!

S.A.F. Marshal Pravda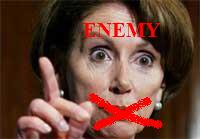 Target


$.$. Halliburton

[shoot Karackter]
On the topic of Markos Moulitsas Zúñiga's political expertise I say two words:
Ned Lamont
[buy new Karackter]

Politilemologist
This guy honestly makes me crack up! He is so passionate about his psychotic beliefs it just...it's funnier than anything on television. I can't believe he actually is being serious! LOL!


Komrade Zarkof
Kos appears to have gotten a new prescription for some new meds.

It's good to know that he's learned a valuable lesson from the Kerry campaign, what ever that may be, just before the proles voted against Cardboard Kerry.

It sounds as if the Dems have a winning plan to get more necro-voters to the polls. They may have learned to use a shovel for more than just getting their daily beet allotment.

May the Obama bless you with bailout money and free prescriptions.


Lenin 'n' Things

I fear that beyond the rioting that will ensue if the O isn't elected,many of these cranks will take their own lives. Pity,that. :)


Red Bubba

Kos

-- I want them to hurt as much as we did.

My babushka used to say, A kapitalist standing at the bus stop sees a shiny new Trabant go by and thinks, "Some day, I'll be driving one of those." A neo-com sees the same thing and thinks "Some day, that bastard will be riding the bus like me." The story has a happy-for-the-collective ending - she was purged.
Hope.
Change.
Neo-commmunism.

Laika the Space Dog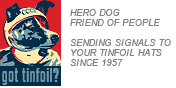 Idiot.

Poor Markos, slobbering and drooling for a victory that will never come unless it's stolen by the likes of ACORN (Agitating Communists Organizing Riff-raff Nationwide).

Because of Obama I am inspired to sight my rifle and keep my powder dry, like any good patriot. Looters and rioters will be shot.
Because of Obama I am inspired to put up ten extra McCain/Palin signs on patriot's private property because if Obama wins you can kiss that private property concept goodbye.
Because of Obama I am inspired to work the polls for McCain/Palin
Because of Obama I am inspired to tell every person what I know about Fannie & Freddie, the collapse of the economy, Franklin Delano Raines, sub-prime mortgages going to people with no credit or illegal aliens, and the all the money funneled to Obama on behalf of Freddie & Fannie.

Yes We Can
Yes We Can
Yes We Can

Pass it on
Pass it on
Pass it on