El Presidente

Fascist Krauthammer does not compare Dear Leader to Almighty God. Blasphemy! How does the subversive network of FAUX News continue to operate in a totalitarian society?
Don't compare Dear Leader to the Almighty

Opiate of the People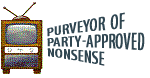 Comrade, we are all aware that when Dear Leader dies, God's reward will be to meet him.


General Confusion

Comrades,
The word god is a english invention.
Original Hebrew consists of letters with no vowels. The G is Gimel and the D is Dalet. Two letters, period. Vowel sounds were added much later by indications below the letters.
One may substitute any other vowel in English without violating grammatical rules.
I don't speak or read Hebrew, I larded it from a book. So you can use GaD, GeD, GiD, GoD [already taken] or GyD.This is very confusing!


ThePeoplesComrade

I don't mean to question but does anyone else notice that when Democrats run for office their main platform (besides higher taxes) is always investing in education and roads (infrastructure). Then when they get elected nothing gets done about roads and education to produce any noticeable improvement. I suspect the Republicans block their efforts and that is why we need to completely rid ourselves of Republicans. I don't understand what Republicans have against roads and education. They love huge planet-killing cars yet won't build roads upon which to drive them? If I were not so dedicated to Barack, I might be skeptical of his message.

I do understand why Republicans oppose education. They fear women and minorities becoming as smart as Republicans. I think Republicans have a secret school where their own children are educated. Let's find it and burn it down for equality's sake.