Ivan Betinov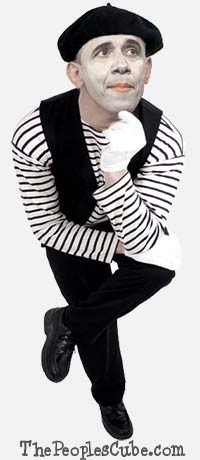 .
In a stunning gutsy call, President Obama has opted to spend the Independence Day Holiday in the Fifty-Fourth State, France.
"This represents yet another 'presidential first' for President Obama," exhulted White House spokesman Jay Carney. "All previous presidents have celebrated Independence Day in Washington, New York, or some other city in the Continental United States. Only President Obama is audacious enough to celebrate the holiday with a series of fundraiser dinners in Paris!"
France, rumored to be the fifty-fourth of the fifty-seven American states, has long been neglected by American presidents, despite its extreme importance in American history. Had it not been for the example of the courageous revolutionaries of the Reign of Terror, the Americans would have never developed the ideas that led to the American Revolution. Vice-President Biden led the advance team that arrived in Paris today, laying a wreath at the Place de le Concorde and proclaiming "Robespierre, we are here!"
"The President will engage in a series of high level fund-raiising dinners," said Carney, "with George Clooney selling tickets to exclusive venues for exclusive guests." Tickets are limited to 150, with prices starting at a remarkably affordable $20,000. "Of course, the President is aware of the current European Debt crisis, and is making a generous 'BOGO' offer," Carney continued. "Anyone buying two tickets will get a fifty percent discount on the second ticket."
Guests will also be signed up for regular e-mail offers of presidential merchandise from Obamamart, including "Puppies for Obama" housebreaking pads and "Big Mo" enema kits.

Capt. Commie

I wouldn't expect anything less. Hopefully he's looking for real estate. France will be a nice little place for him to retire after November.

Red Square

Obama doesn't visit France on D-Day, but flies to a Paris fundraiser on Independence Day. This comrade has his priorities straight.

Статья 58
Fearless leader heads to Paris on July 4th where he will celebrating Independence day with a reading of Paul Lafargue !!


Ivan Betinov

As always, a big merci to the boys in visual agitprop for the illustrations.


R.O.C.K. in the USSA

Dear Leader, according to rumors trickling down from high up in the Party, will also be negotiating price on mass orders of guillotines while in France. Apparently there is concern in high places that there may not be sufficient funding to keep the Gulag going, what with the cost of razor wire and all, and guillotines are SO delightfully chic!


Head Hunter

El Presidente


Dig4Utopia

Baisez cet enfer capitaliste.



Great Stalin's Ghost

Now, now, we mustn't forget: if Obama is doing it, it must be right, uh, I mean correct. Nothing on the Right is right.