R.O.C.K. in the USSA

Comrades, it is being announced that President B. Hussein Obama has a "mandate" from the American people. This, however, is a misunderstanding on the part of the media.
The truth is that Dear Leader has a Mandrake for the American people. Easy mistake to make; most folks aren't used to thinking in those terms (yet), even with Dear Leader.
As some here on TheCube™ may know, mandrake root has been used in various occult rituals for millennia, in witchcraft, voodoo, and so on. It is considered very powerful. And that being the case, it only makes sense that the most powerful Man in the world would be well versed in its use!
While we lower life forms can only begin to imagine to what uses Dear Leader has already put His mandrake - possibly influencing one or both elections? causing General Petraeus to have an affair and resign right before testifying about Benghazi? keeping FLATUS from being no more than 75 pounds overweight no matter how many tamales she eats? - I have no doubt when He says that He's only begun the glorious task of fundamentally changing America that His Mandrake root is dead center in His plans of how He will accomplish it!
Comrades - NextTuesday™ is truly here!!!

R.O.C.K. in the USSA

Like I said - mandrake, elections,
Petraeus
, FLATUS and
75
100 pounds...
He gotta mandrake for America!

Anyer Marx

Comrade R.O.C.K, I am glad for the explanation. What was said could have been heard as a "man-date," perhaps with Putin: The One pays for dinner and eastern europe gets screwed.
"Condoms good; missile defense shields bad"


Sugar Daddy Bear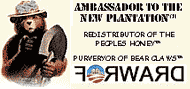 Comrade ROCK,

This is quite an elucidation! Obviously his Aunt Petootie was good for something (other than defying deportation) that she taught the young Baroke the value of 'green energy'.

However, he does seem to be holding that mandrake in a most peculiar way...