Ivan the Stakhanovets

Comrades, raise yet another vodka ration to dear Leader (PBUH) on this, his glorious 1000th day of office! He has raised spending by 4 trillion dollars, which by government-school math equates to 4 billion dollars per day, even while on vacations! Let the awe and amazement be shared equally!


Commissarka Pinkie

His milestone is our millstone.


Fraulein Frankenfeinstein

$4trillion... wow, what one can do with a printing press. Now if he can get all those complaining unemployed to shut it up and realize living off the government is a glorious right.


General Confusion

Comrades
Well serving as "president" he has been scrimping and saving whenever possible,
This is why he was able to save taxpayers money and only spend $4 Billions a day,
Like having Ebenezer Scrooge running the government.


Ivan the Stakhanovets

Woo hoooo! The 1000 day party is jumping! Imagine spending all that, feeding your wife all the lobster she can keep down, vacations in all the hotspots, and only 2.5 million jobs converting from lost to "saved or created" The ONE is truly amazing...


Proletarian Robot

Kennedy served 1,000 days too! Is Obama planning a campaign trip to Texas soon??


Krasnodar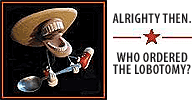 Pro Rob....

Allow me to introduce to you Barack Obama's ultimate life insurance policy :
Need I say more ?

Red Square

Proletarian Robot
Kennedy served 1,000 days too! Is Obama planning a campaign trip to Texas soon??
As they say, "a socialist is a communist without a gun." Considering that Kennedy was assassinated by a hard-line communist, Obama should stay as far as possible from the "Occupy fill-in-the-blank" crowds, and encourage them only from a safe distance while being surrounded by socialists in his party. That would be better for everybody.
We can only pray that nothing like that happens to Obama, lest he be placed on the immortal pedestal of martyrdom and become a national hero. The media will create its own upside-down narrative, and Oliver Stone will make a movie called BHO, in which he will cement the notion that it was really the work of a vast right-wing conspiracy inspired by Sarah Palin and the "racist" Tea Party.

Vladimir_Scratchanitch